Internet shopping is a little scary because you can't see what you are getting and you don't know who is selling it. That's why Amazon is so popular: they aggregate a vast number of sellers under one umbrella and you feel like you are dealing with one seller rather than thousands of booths at a flea market.
Gun manufacturers typically don't sell directly to the public. Wholesalers buy guns in lots from the manufacturers and distribute them to authorized dealers throughout the country. The challenge for the local FFL dealer is to tap into several streams of wholesalers and help you find the gun you need.
Each state has different laws regarding the sales of guns, and sending a gun across state lines requires the services of an FFL dealer in each state (FFL = Federal Firearms License). An FFL dealer is intimately familiar with the gun laws of the originating state and will contact another dealer in the state where the gun is going before finalizing your purchase.
The simplest way to make an online gun purchase is to visit one website where an FFL dealer has several streams from wholesalers. You can browse the selection available by type (eg rifle vs handgun), brand, or caliber.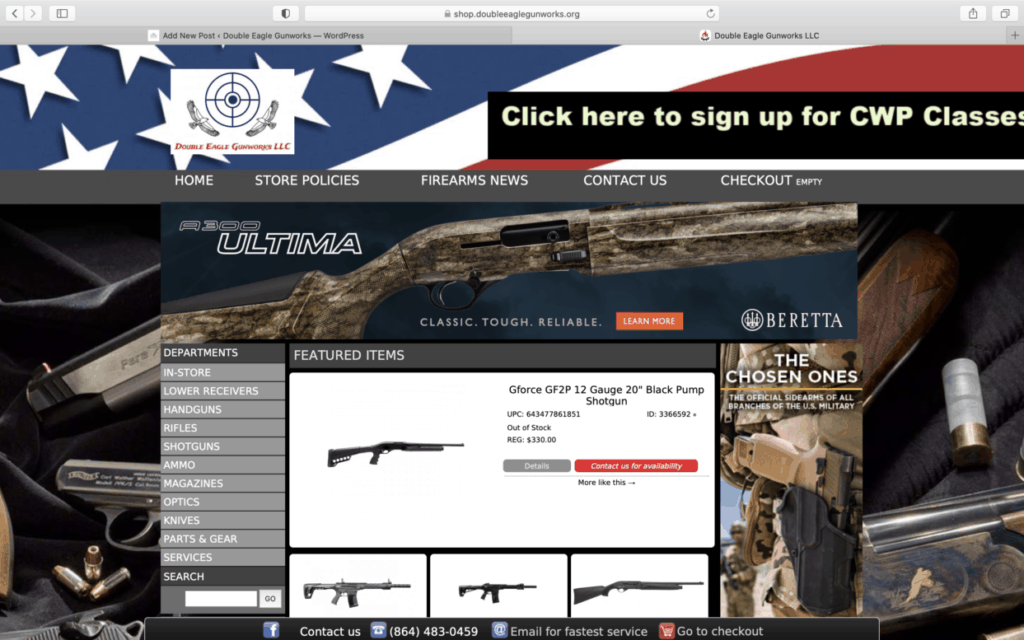 In addition to our blog at doubleeaglegunworks.com, our onsite classes, and our YouTube page, Double Eagle Gunworks LLC has established shop.doubleeaglegunworks.org as a safe place for you to go online and peruse the guns, ammunition, and accessories that are available now. The listings are updated multiple times a day to ensure that you see only the offerings that are actually in stock.
To navigate shop.doubleeaglegunworks.org, click the link to get you to the website. Once you are there, you will be looking at featured listings from categories as diverse as rifles, handguns, shotguns, ammo, and optics. Each listing features a photo of the product and the price, along with the UPC so you can be certain that you are seeing the same item that you searched elsewhere.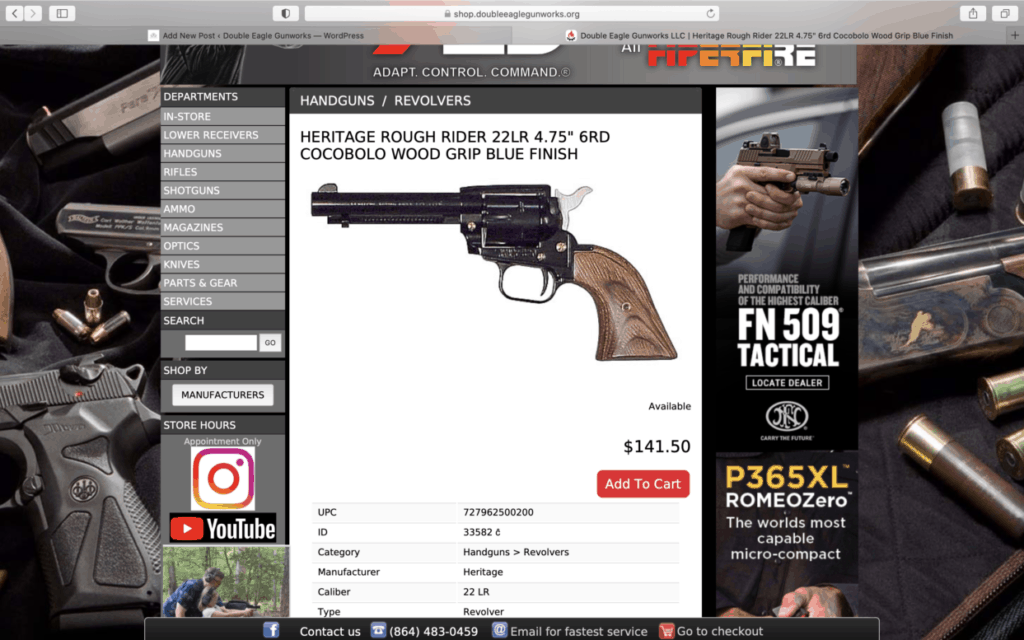 Every item on shop.doubleeaglegunworks.org is in stock! As soon as the wholesaler runs out of a given item, the feed for that item is flagged by the wholesaler. The page is hosted by Gearfire, a company established for the purpose of managing the accuracy of the listing, and is updated every few hours.
Along the left side of the page you will find a listing of the departments you can choose from, including rifles, pistols, shotguns, knives, ammo, gear, magazines, and optics. The top item, in-store, is for things that we have onsite so that our students can buy them during visits to our shooting range.
The bottom listing, classes, is for training that we provide in person, such as classes, individual lessons, rentals, and gun transfers. Click on "classes" and scroll to "CWP Classes" to see upcoming class dates. We are currently limiting class size to 12 students. Contact us if you would like to host a larger class at your church or business.
Below the department listings is a search feature so you can find the specific item you need. Type in "Smith & Wesson," for example, and get a page of all the S&W offerings available today. Further refine your search at the bottom of the results page by choosing a specific caliber or changing the manufacturer.
The next button down the left side of the main page gives you an option to shop by manufacturer. Pressing this gives you an extensive list of manufacturers whose products can be ordered through our site.
Continuing down the left side and moving to the right side you will find a link to our Instagram, a link to our blog, and then buttons for the manufacturers whose products we can sell you.
A banner across the top of the page gives you a link to sign up for our CWP classes. The next row down offers you store policies, a newsfeed, an opportunity to contact us, and a place to check out.
At the bottom of the page you will find a Facebook link and our contact information. Feel free to call or email with questions about the items you wish to purchase. If we can't answer the phone immediately we will call you back as soon as possible.
Choose the items you wish to purchase and head for the checkout page. It is secure, and we will not store your payment information. We will process your order promptly, but please allow a few days for the item to reach you. If a gun transfer is involved, you will need to pick up the gun in person. If you come to us, Chris will run a background check to satisfy the legal requirements.
If you are not in the Upstate of South Carolina, we will work with an FFL in your area. Be aware that you must meet the age requirement for your state and pass the background check before you can take possession of your gun. In South Carolina, a current CWP holder will not need the background check but will still have to fill out all the required paperwork.
Don't guess about whether you meet the requirements. Make sure you know the law in your state before you make your gun purchase.
Now that guns and ammunition are becoming more readily available, head on over to shop.doubleeaglegunworks.org and pick out something nice. We will be doing weekly specials. You can find out what is on special by signing up for our email newsletter. Then make an appointment with Chris for individual instruction, including range time if desired. Thanks for reading my blog!