I had been eyeing the GTM-22 for a while when my husband noticed that DVOR was offering a special deal on it. We made the purchase.
The GTM-22 Concealed Carry Clutch from Gun Tote'n Mamas is a quality product made with tooled leather cowhide and features a dedicated zippered holster compartment accessible with the right or left hand. It includes a detachable strap and RFID protection for your wallet.
The middle zippered compartment is a large open space with a smaller open pocket and a zipped pocket. The third compartment features a fold-over flap with a positive magnetic closure and tiered pockets for cards and smaller items.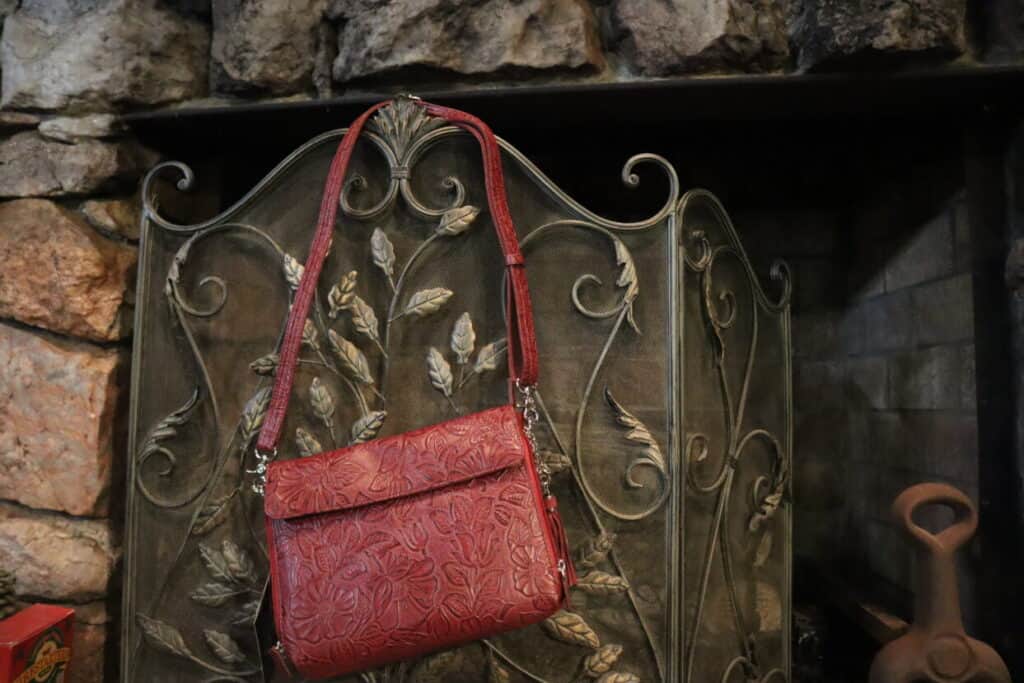 GTM-22
Colors
Black Cherry, Black, Tan
Features
Gun compartment zips on 3 sides
RFID protection for your cards
Access gun with left or right hand
Large gun footprint allows infinite angle adjustment of holster
Detachable decorative leather tassel
Numerous slots and pockets

Materials
Cowhide tooled with rose leaf pattern and hand rubbed color
Chrome Hardware
Gun compartment padded to prevent printing
Leather softens and darkens with use
Drop Length
12-25″
Strap Length
49″ adjustable and removable
Measurements
10 1/4″ W x 8″ H x 3 1/2″ D overall
Zippered compartment 10″ W x 1″ D x 6 1/2″ H
Gun footprint 8″ W x 5 1/2″ H
1 pound 10 3/8 ounces with strap and holster
1 pound 3 7/8 ounces without strap and holster
Feature List for GTM-22 Concealed Carry Clutch
First Impression
I received my GTM-22 in a cardboard shipping box stuffed with packing paper. I am fond of embossed and embroidered materials, so the hand tooled leather pleased my eye and my hand. The size and shape were not overwhelming for my small frame but were big enough to hold standard purse contents.
Quality of Materials and Construction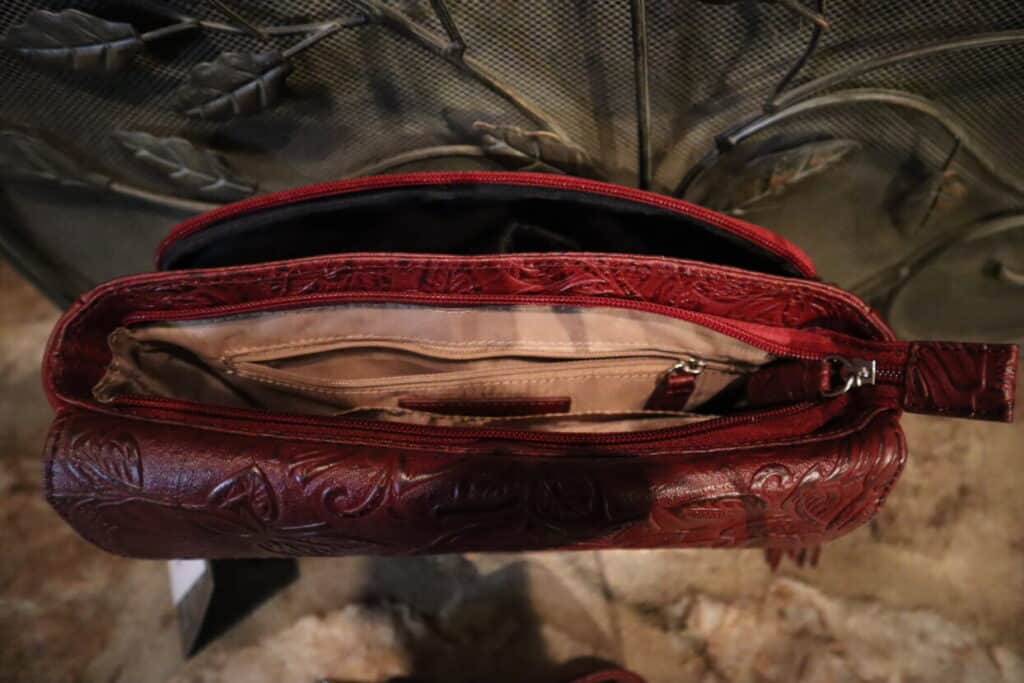 GTM used good quality leather to make this purse thick and soft, with crisply outlined leaves and roses. The stitching is small, regular, and unobtrusive. Zippers are centered correctly and work smoothly. Hooks open easily and close securely. The tassel is on its own chain and easily detachable.
Zipper pulls are easy to operate. The lining material is thick and sturdy. The holster is made of a thick leather with braided canvas reinforcement at the insertion point and cloth binding around all the edges. Hook-and-loop strips on both sides enable the user to orient the holster toward the left or right. The smell of the purse is that of genuine leather.
Colors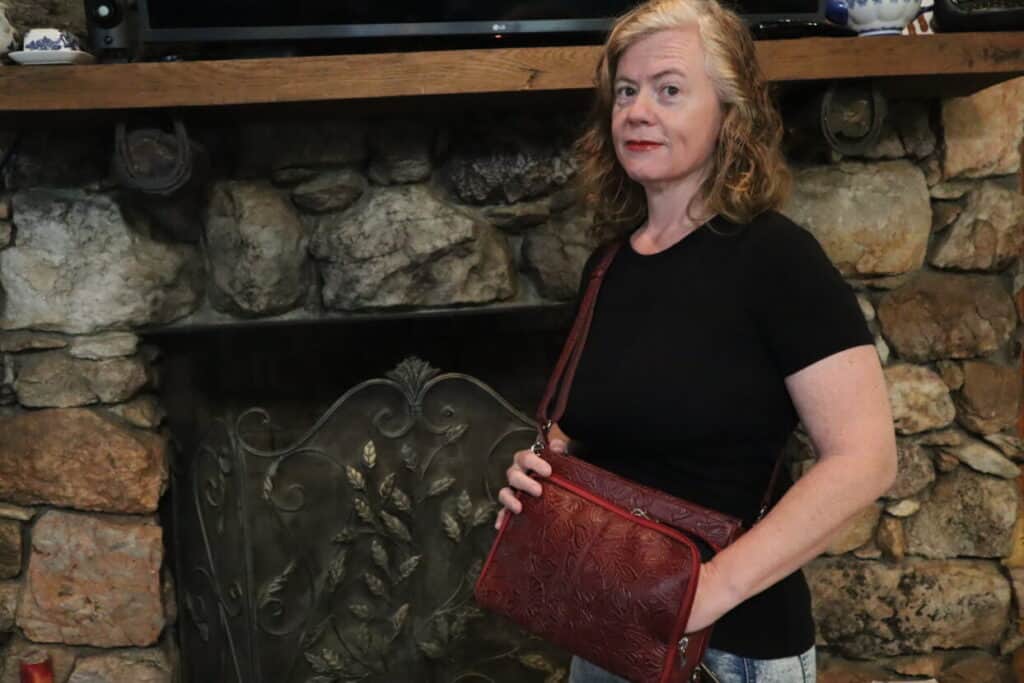 The GTM-22 comes in black cherry, tan, and black. I chose black cherry, which is a medium burgundy color that will darken over time. Black cherry works well with my conservative wardrobe, coordinating nicely with black, brown, navy, red, and even green. The only color in my closet that did not work with it was orange.
The hand tooled rose flower pattern is subtle enough not to interfere visually with a patterned shirt. The hardware is chrome colored and the holster and its pad are black. The interior lining is tan.
Holster Compartment
The padded holster compartment spans the width of one side of the bag, with the zipper along three sides so that it can open to a completely flat position. If you have a flat place to stand your purse you can open this compartment to a ninety degree angle and use it as a clean place to load your next round of ammunition.
There are no pockets in the holster compartment because this compartment should only contain your gun. Anything else in the same compartment would run the risk of interfering with the gun's function or causing a negligent discharge.
The holster itself held my Ruger LCR snub nosed revolver securely. We also tried with with my husband's Sig P320, S&W Shield EZ9, and P365xl semi-automatics and they fit well. The P320 is a full sized handgun. You could substitute your own purse holster with a hook and loop closure. The generous hook and loop square on the inside of the compartment has plenty of room to adjust your gun to sit at any angle for a comfortable grip on the gun.
The zippered panel is thickly padded with a seam down the middle and truly prevents printing.
Zippered Compartment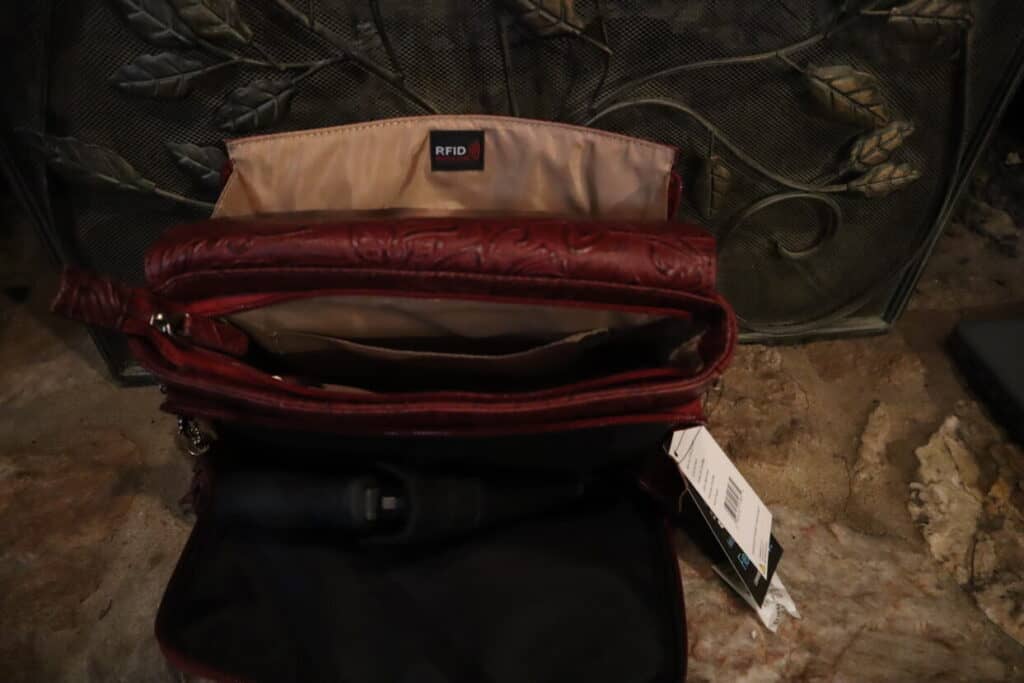 In the middle of the purse is a top-zipped compartment. The lining is not fastened to the bottom, so you can turn the compartment inside out if something goes missing. A zippered pocket and an open pocket line the walls to give you a place for your smaller items such as a pocket knife or grooming items. A leather name plate is stitched into the lining to let you know your purse is from Gun Tote'n Mamas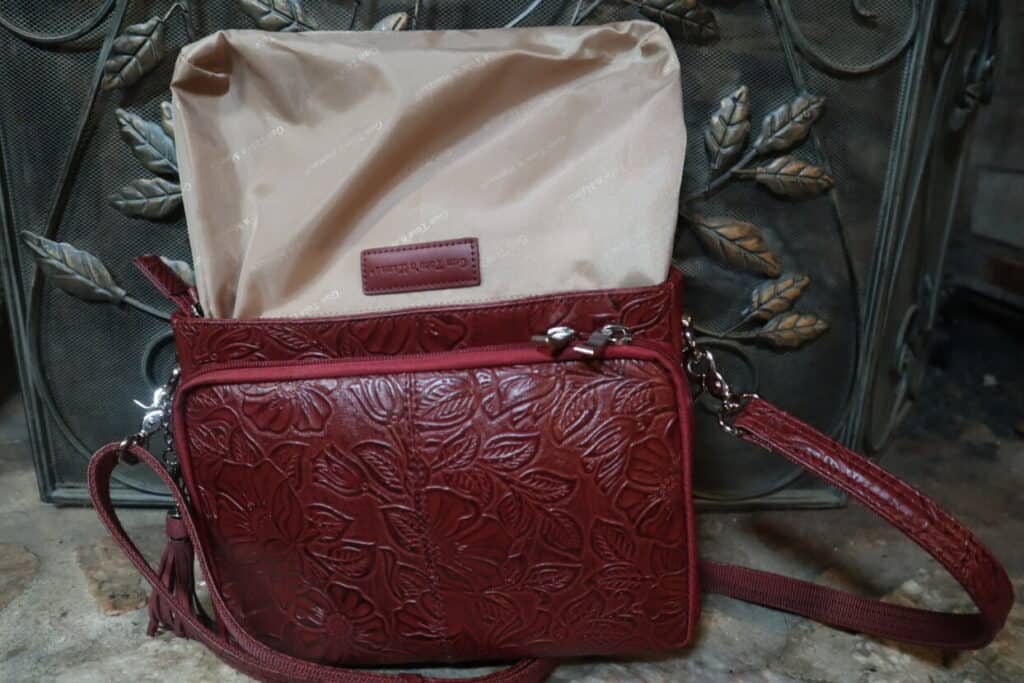 Flapped Compartment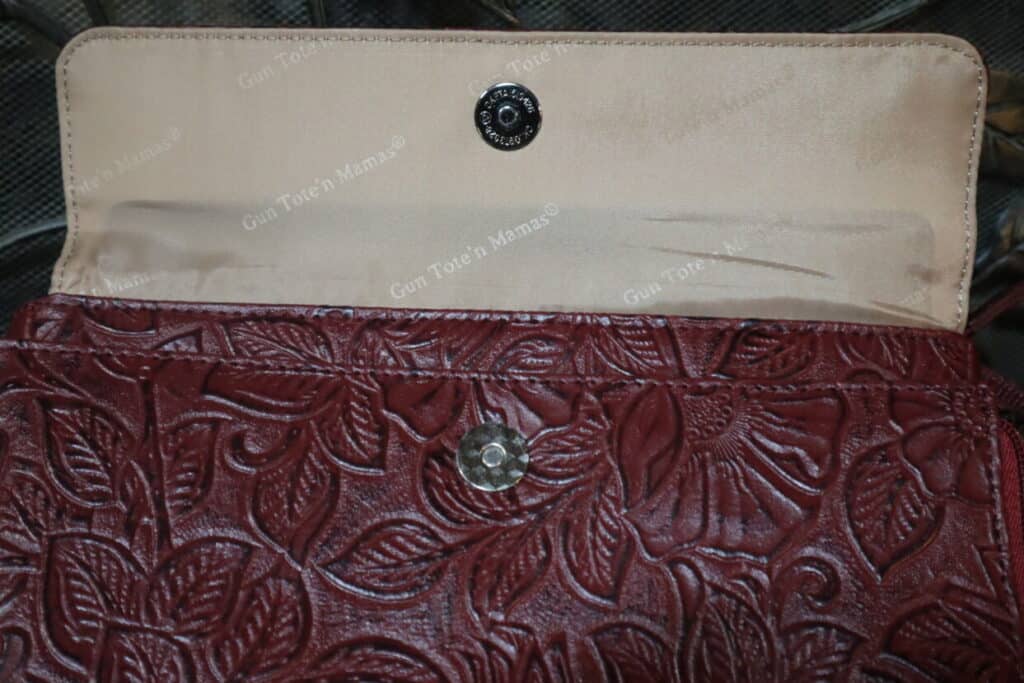 The remaining compartment on the opposite side of the purse opens at the top via a flap which is magnetically closed with a snap that lets you know you achieved closure.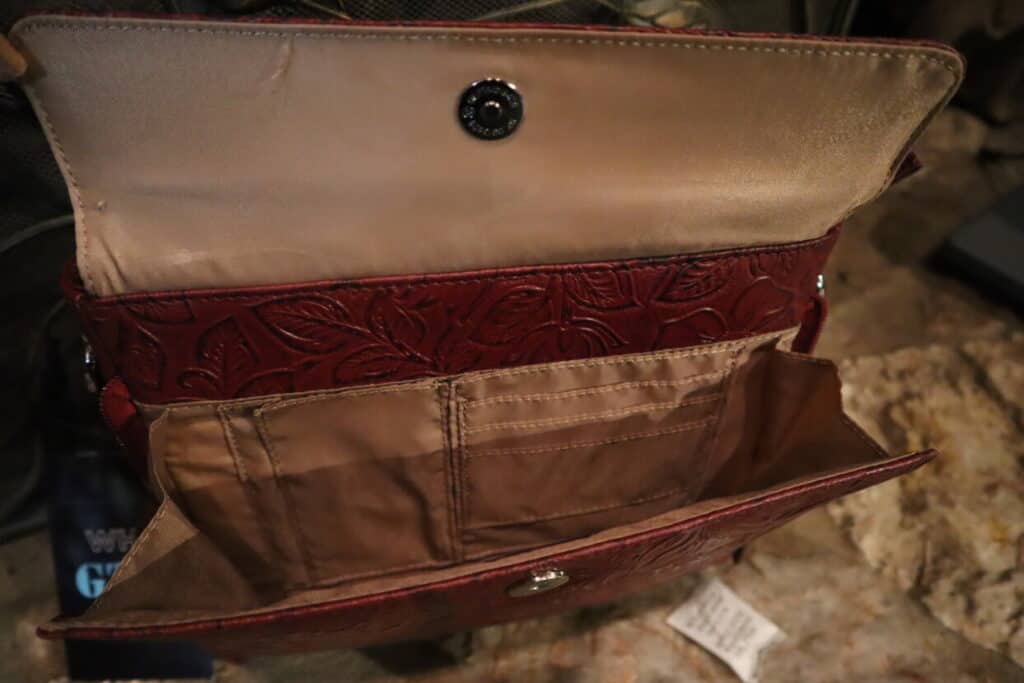 This compartment has a zipper almost all the way down the left and right side with a gusseted and folded side lining that allows you to open it out 3 inches. This compartment features four tiered pockets for ID cards and a gusseted pocket 2 1/2″ W x 4 1/2″ H x 1/2″ D that you could use for a magazine or a pocketknife.
RFID Protection
In today's world you have to think about whether the person standing next to you might want to steal your credit card number. Your card's computer chip sends out low-power radio waves that can be scanned with a receiver hidden in your neighbor's pocket. The GTM-22 incorporates technology to block the electromagnetic field so the card reader cannot read your card.
Sturdiness
The GTM-22 is a thick, solid, well-crafted bag that should be able to withstand daily wear.
Left and Right Handed Access
As a lefty, I have learned to cope in a right-handed world, but it is much nicer to have options. I can wear the GTM-22 on either side with the gun compartment close to my side or on the outer edge. I can face the gun left or right because the hook-and-loop tape is affixed to both sides. I can angle it up, down, or straight to suit the angle of my arm and move it around the large hook-and-loop pad.
Removable Strap
The strap is thick and sturdy tooled leather sewn to a layer of thick canvas in the same color and stitched down in four rows for a quilted look. It attaches with a swiveling hook on either side of the purse for maximum maneuverability. The length can be adjusted via a buckle and a leather loop that allow you to increase or decrease the amount that is folded, like a bra strap.
As a short person, I adjusted the strap to be shorter, so the top of the purse would be at my waist for easy access. Then I lengthened it to wear it crossbody. A thief stealing a crossbody purse has a harder time because he would have to cut the strap or lift it off over your head unless he could get access to the hooks at the side. The strap on the GTM-22 is reinforced to prevent theft.
Measurements
The GTM-22 measures 10 1/4″ W x 8″ H x 3 1/2″ D overall. The gun compartment is 10″ W x 1″ D x 6 1/2″ H. With the strap and holster, the purse weighs 1 pound 10 3/8 ounces. Without the strap and holster it weighs 1 pound 3 7/8 ounces.
Recommendations
The GTM-22 is a solid purse with plenty of room for basics. I tend not to overload a purse because I carry things in my pockets. I carried my smartphone, pocket knife, wallet, and gun with plenty of room for a small book. If I desired, I could have included gum, candy, grooming items, pens, and assorted paraphernalia without difficulty.
The only thing I might have added to make it perfect would be an outside slit pocket for carrying my phone. I like to be able to answer the phone without opening the purse. The security of the purse is actually better without this feature because it is that much harder for a pickpocket to snatch my phone, and nothing can fall out if I trip and the purse tips upside down for a moment.
Other Purses to Consider
Given the high quality and attractiveness of the GTM-22, I would be willing to buy Gun Tote'n Mamas products in the future. A few that caught my eye when perusing the listings at Optics Planet: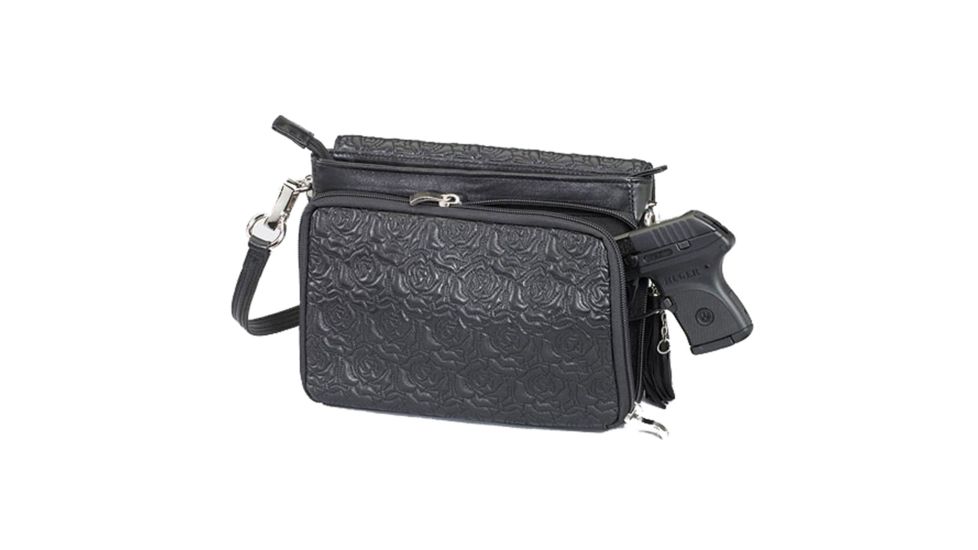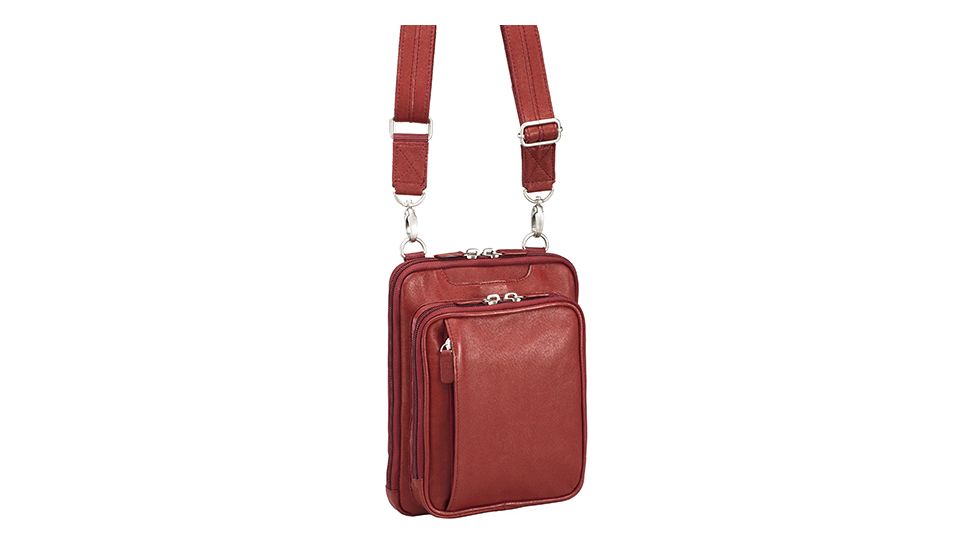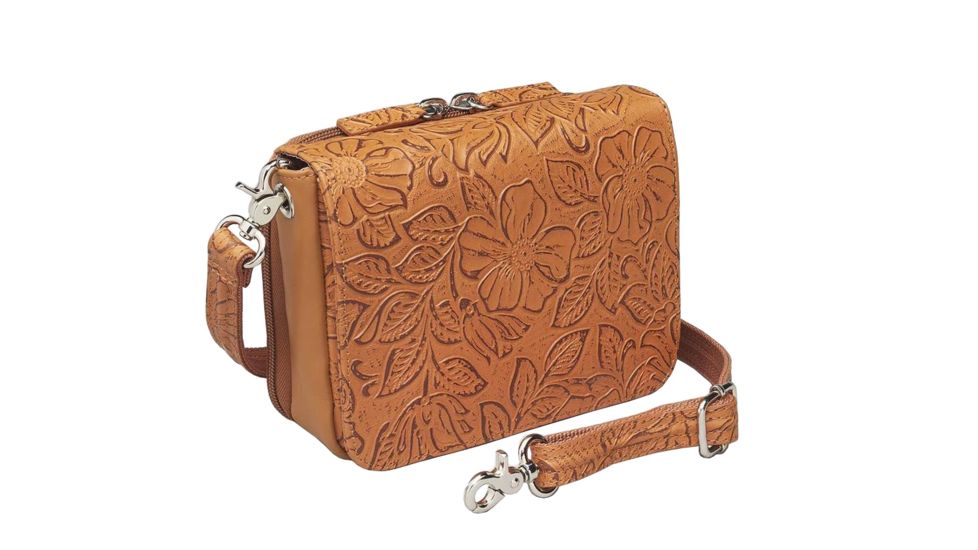 Thanks for reading my blog. Be sure to check out other posts on concealed carry for women, such as this one. Find us on the Double Eagle Gunworks YouTube channel.
If you are within driving distance of Upstate South Carolina, contact us for information about private or group instruction in gun safety. Check our schedule to find the next Concealed Weapons Permit class. Sign up for our newsletter. See you again soon!