Olight sent us their newest weapon light, the Baldr Pro R, to review. We get a commission if you use our link.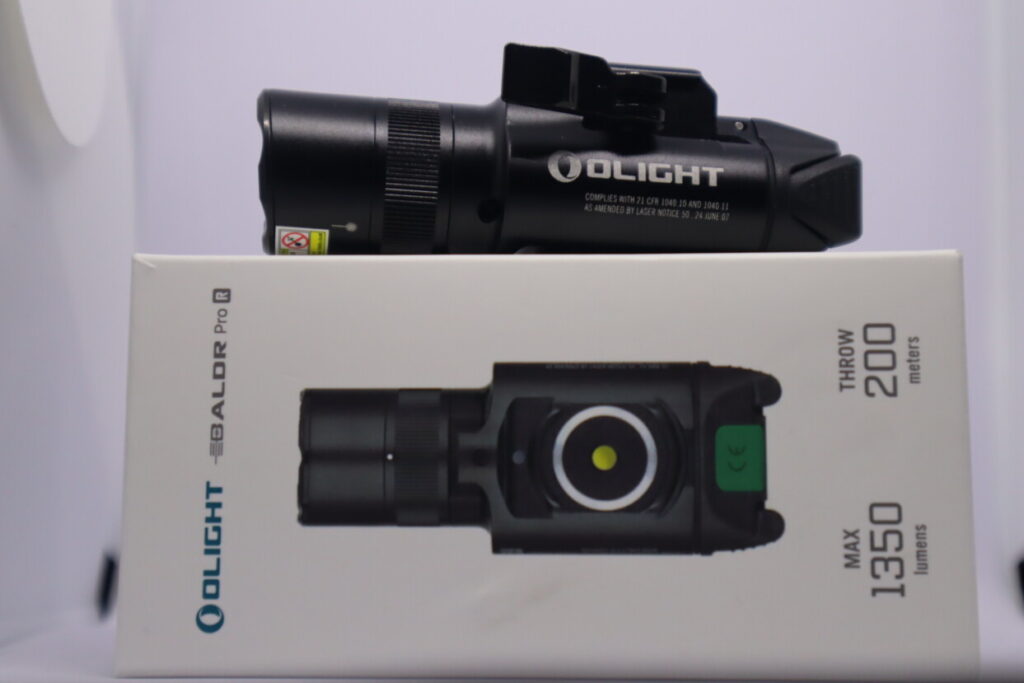 The Baldr Pro R is a bright and easy-to-use weapon light that can be mounted under most handguns or long guns with a Glock rail or a 1913 rail. It boasts 1350 lumens and a throw of 200 meters. It charges magnetically with an included USB charger. It includes a green laser which you can activate with or without the light.
The Baldr Pro R endures for up to 93 minutes on its lower setting of 300 lumens (85 minutes with GL beam on). It weighs 4.4 ounces including the battery and has a waterproof rating of IPX4. It is bounceproof at 1 meter.
Run Times for the Baldr Pro R Weapon Light
The Olight Baldr Pro R Weapon light has a high setting of 1350 lumens and a low setting of 300 lumens. In addition, it includes a green laser for sighting. You can activate the light, the green laser, or both at the same time.
For comparison, a car's headlight projects 700 lumens on dim and 1200 lumens on bright. The Baldr Pro R is a little brighter than car headlights on bright.
| | | |
| --- | --- | --- |
| Setting | Lumens | Run Time (Step Down) |
| Low | 300 | 93 minutes |
| Low with laser | 300 | 85 |
| High  | 1350 | 100% 1.5 minutes, 37% 40 minutes, 22% 13 minutes |
| High with laser | 1350 | 100% 1.5 minutes, 37% 38 minutes, 22% 11 minutes |
| Green laser only | | 19 hours |
Brightness and Run Time for the Olight Baldr Pro R Weapon Light
Olight knows you might need to budget the battery charge on your light, so it uses a step-down feature to keep from blowing through your charge too quickly. On the high setting the light will stay at 1350 lumens for 1.5 minutes, then step down to 499.5 lumens for 40 minutes, then stay on at 297 lumens for another 13 minutes.  Using the green laser with the light still gives you 1.5 minutes at 1350 lumens, then 38 minutes at 499.5 and 11 minutes at 297.
On the low setting, you get 300 lumens for 93 minutes. With the green laser on you get 85 minutes at 300 lumens.
When the battery charge drops to 50%, the maximum output drops to 500 lumens.
Specs for the Baldr Pro R Weapon Light
The Baldr Pro R has a Bounce Proof Rating of 1 meter, which means you should be able to drop it a little over 3 feet without harming it. The Waterproof Rating is IPX4, which means that it can handle a splash of water but should not be submerged.
I weighed the Baldr Pro R with its battery, and my food scale said 4 3/8 ounces. I measured it to be 3 5/8″ long, 1 1/4 thick,(top to bottom when mounted on the gun), and 1 3/8″ at its widest point .
The max light intensity for the Baldr Pro R is 10,000 candela. That is the equivalent of 10,000 wax candles in an otherwise dark room. The green laser beam is Class 3R, which means it causes an aversion response if you accidentally shine it in your eyes but should not cause harm if you glance away quickly (source). Of course you want to avoid looking directly at any laser.
The Baldr Pro R comes in Black, Desert Tan, and Gunmetal Gray.
| | |
| --- | --- |
| Features | |
| Charging Cable | MCC 1A USB magnetic charging cable |
| Bounce Proof Rating | 1 meter |
| Waterproof Rating | IPX4 |
| Dimensions (including battery) | 3.74 x 1.44 x 1.34 inches |
| Weight (including battery) | 126 grams/ 4.44 ounces |
| Max Light Intensity | 10,000 candela |
| Battery | 3.6V 100mAh rechargeable lithium polymer battery built in |
| Light Source | High Performance CW LED MODE 1 SPECIFICATIONS STROBE MODE 2 |
| Mode Operation | Rear switches |
| Material | Aluminum Alloy |
| Projection | 200 meters |
| Wavelength | 510-530 nm |
| Max output | 5mW |
| Max runtime | 19 hours |
Specs for the Olight Baldr Pro R
Instructions for the Baldr Pro R
I am happy to report that Olight was paying attention when I reported in my prior reviews that the instructions were too small too read. The instructions on the Baldr Pro R are still on a map-folded page in 18 languages, but the font is now big enough to read with the naked eye.
There are also written instructions in addition to the icons printed on the instructions for prior lights that we have reviewed. I am very pleased to see the instructions written out in English rather than just pictures.
Olight's Reputation
Olight has followers as enthusiastic as any I've ever seen. They make high-quality, innovative, and durable lights. Olight frequently has flash sales, and you can visit our coupon page to find out if they are having one now. Grab the one you want, because they tend to sell out.
Charging the Baldr Pro R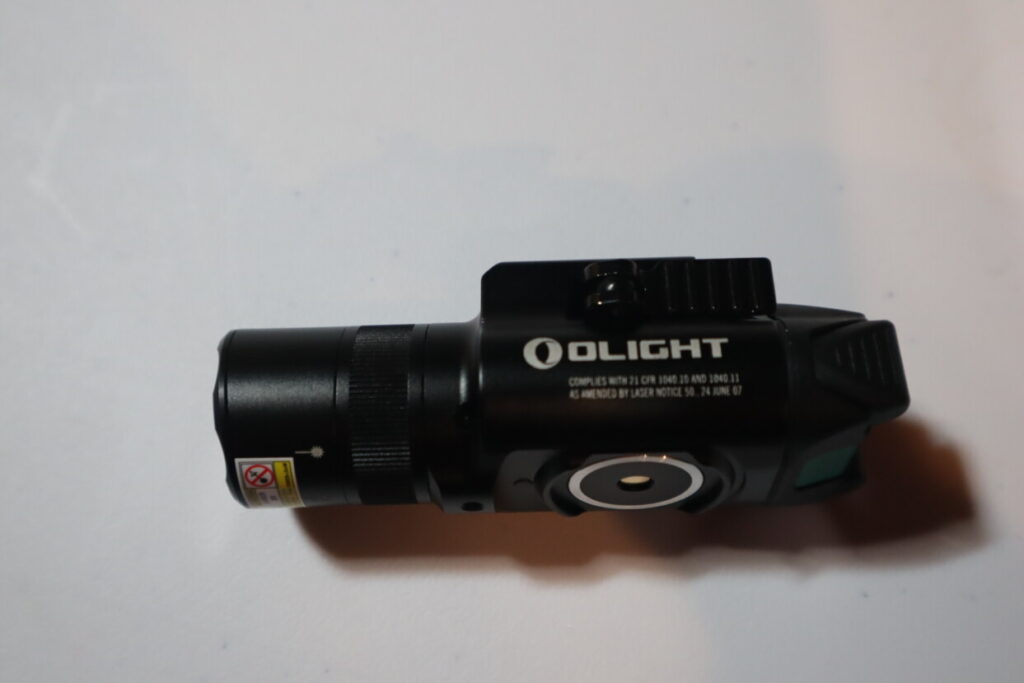 Olight's magnetic charging process is quick and easy. Attach the blue circular magnet to the charging plate on the bottom of the unit and plug in the charger.
The included charger plugs into a USB outlet, or you can provide your own adapter and plug it into the normal wall outlet.
The indicator on the charging cable is red while charging and green when fully charged. The low battery indicator lights up when the light is on and the battery level goes below 10%.
Changing the Mounting Rail for the Baldr Pro R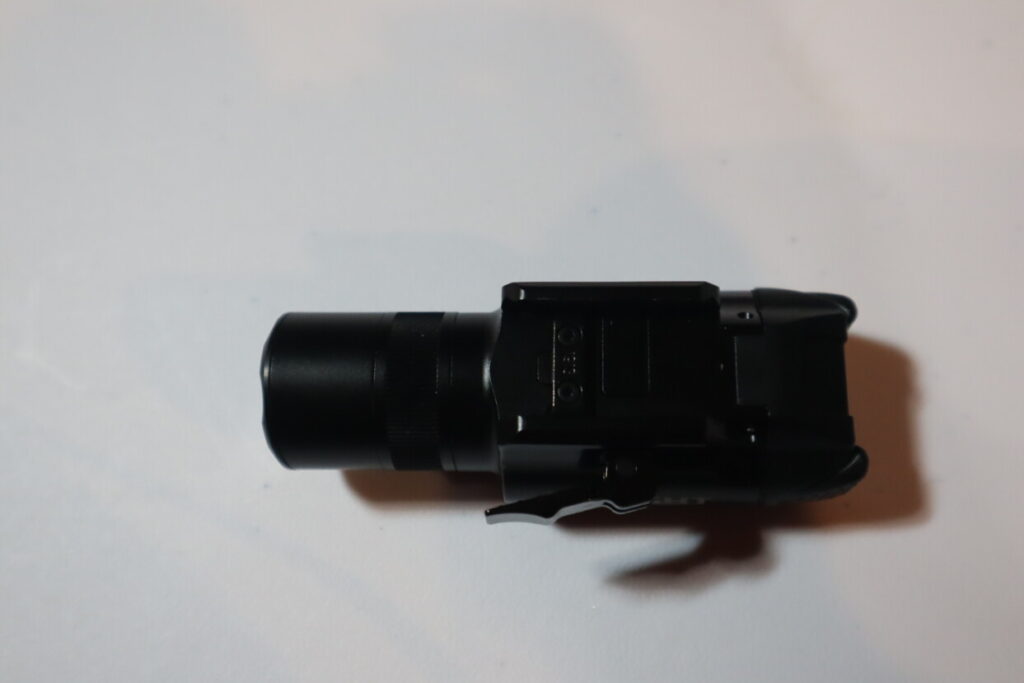 Changing the mounting rails on the Baldr Pro R is simple. It comes with a Glock adapter already in place, and a 1913 adapter is included in a tiny zip bag along with an Allen wrench and extra screws. The hardest part is keeping track of the screws, so make sure you keep everything on a flat surface. Just unscrew the attached rail, replace it with the rail you want, and tighten the screws back into place.
Mounting the Baldr Pro R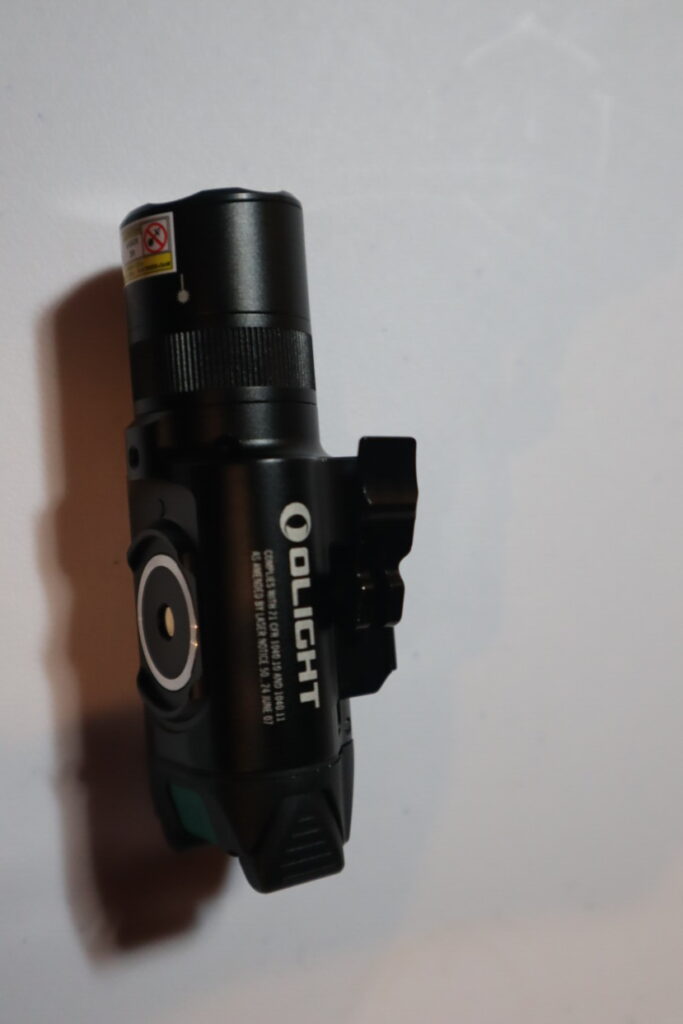 The first time I mounted a weapon light on a rail I had to learn the rocking motion, but now it comes naturally. Pull the swing arm forward to loosen the carriage. Attach one side of the carriage to the rail and making a rocking motion to fit it on the other side. Then tighten the carriage by pulling the swing arm back. The result is a secure connection that withstands the motion of shooting.
We mounted it on our HK45 for the video above. It provided excellent illumination and the green laser was easy to align with the sights on the gun.
The Baldr Pro R is longer than Olight's other weapon lights because it is meant to mount under handguns and long guns. When we tested it with our HK45, we discovered the extra length meant that the light gathered gunpowder and had to be cleaned after each visit to the range.
We asked Olight why the light was so long and they responded that they did that to make it compatible with long guns. We mounted it to the AR-15 that my husband assembled with a pic rail on the side. It did a great job of illuminating the target and aligning with the sights.
Using the Baldr Pro R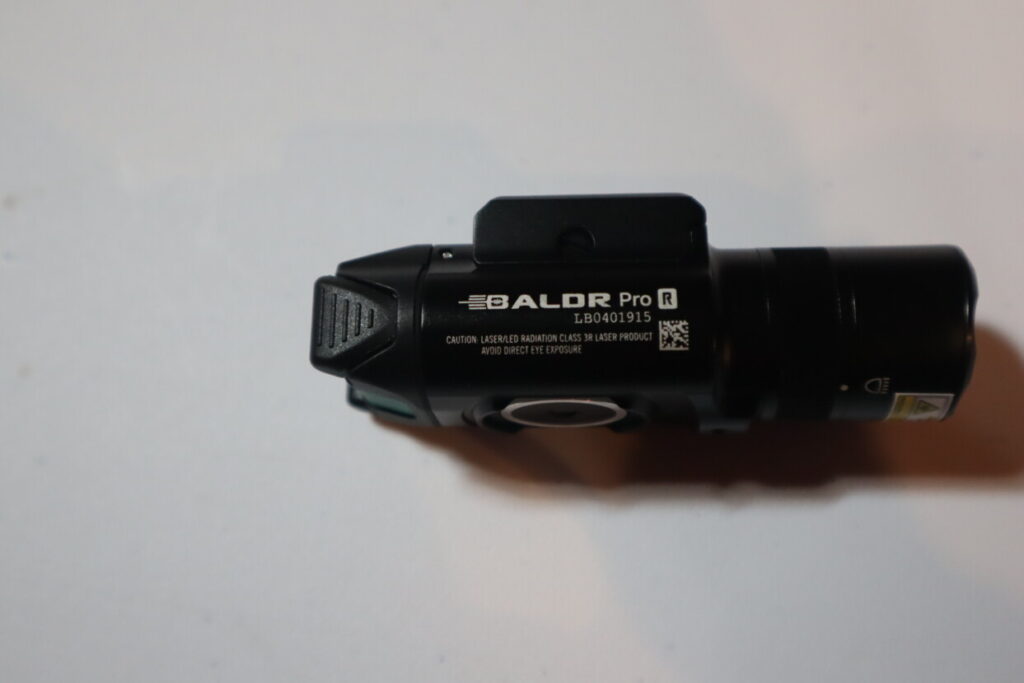 Using the Baldr Pro R is more intuitive than their previous weapon lights. Instead of pushing down on the back switches, you now squeeze them. Squeezing and holding the left or right switch produces a momentary activation of the light. Clicking either switch causes the light to turn on and stay on.
Squeezing and holding both switches causes a momentary activation of the strobe light for as long as you hold the fins. Clicking both switches at once causes the strobe light to turn on and stay on.
The strobe light is a way to call for help or to disorient an attacker. Be careful around people who have migraines or seizures.
The ribbed ring just behind the head of the light has three indicators so that you can turn the ring to switch between 3 modes: laser only, laser with light, and light only.
To switch between high and low settings, double-click either switch while the light is on.
To lock the light, press one switch for half a second. Keep that switch pressed and press the other switch for 2 seconds until the light turns off. In lockout mode you can still access a dim white light of about 100 lumens by pressing either switch Press and hold both switches for 2 seconds to return to leave lockout mode.
Olight's Guarantee
Olight offers a 30 day return policy from the time you received the product and will pay for the shipping of the return. Returned items must be in the original packaging and in original condition. Any free items must be returned with the merchandise.
Warranties vary depending on the product, so read the description carefully. The Baldr Pro R comes with a 2 year warranty and free shipping within the United States.
Our Recommendations
We are consistently pleased with the products we review from Olight, and we recommend you try them. The Baldr Pro R is an excellent option for your long guns. Get the RPL-7 optional magnetic remote pressure switch for an even easier setup.
We have not reviewed that switch, but see this article to learn about a similar switch that we used with the Warrior 3.
We like the Baldr Pro R for handguns, but you will have to clean it more often because it is longer than other weapon lights. If that is a concern, get the Olight Baldr S instead.
Check out the other products we have reviewed from Olight:
Thanks for reading my blog. Return often to learn about guns and read more reviews. Head over to our YouTube channel Double Eagle Gunworks to see more free videos on gun related topics.