When I first heard of satellite communication technology, I assumed that it was financially out of reach for most people. I was wrong. Somewear Labs reached out to us to see if we would review their product and I was surprised to find that the prices are similar to those for smart phone cellular service providers.
Somewear kindly sent us a satellite communication device to try for 2 weeks and gave us unlimited data for that time period so that we could explore its capabilities and report back to you.
The Somewear Global Hotspot is designed to allow the user to communicate via satellite from any location on the globe using the Iridium satellite network. When a cellular signal is available, the user can download maps and weather reports as well as sending and receiving text messages through the app without using data from the required data plan.
Messages sent via satellite are charged to the data plan. Recipients of text messages can reply without downloading the app; recipients of emails through the system can reply only by downloading the app. The user can send pins with exact location to the recipient as desired or in automatic 10 minute intervals.
The user of the Somewear Global Hotspot can press a button to send an SOS signal to GEOS, an organization that has a contract with Somewear to send your coordinates to a search and rescue team who can help locate you in an emergency.
What the Somewear Global Hotspot Is Intended to Do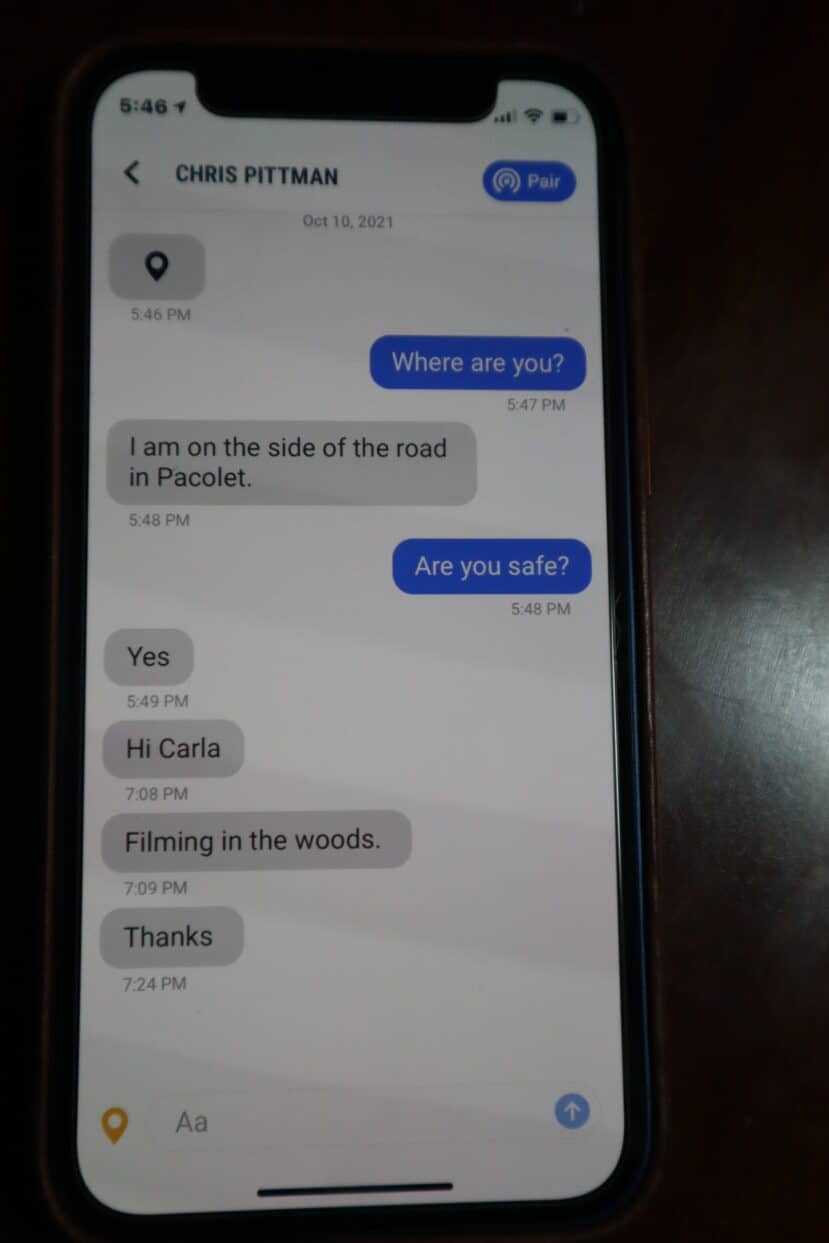 When I was a girl, no one expected to be able to communicate 24 hours a day. I rode my bicycle all over the countryside with no thought of whether I could summon help in an emergency.
Four decades later, we have an expectation of reaching help any time we want by pulling a cell phone out of our pockets and calling 911. In truth, there are places we go where the cell phone has no coverage. In Upstate South Carolina, where I live, there are large swaths of territory where my cell phone is not reliable. If my aging vehicle breaks down on a country road I may have to walk a few miles before I find a spot with cell coverage.
Gun enthusiasts are often hunters, and hunters naturally gravitate to unoccupied areas which may not have adequate cell coverage, leaving them vulnerable if an accident occurs.
Nature enthusiasts may hike through the many national parks and forests in the United States with no hope of cell coverage. I once hiked into Caesar's Head State Park with a friend and then took many hours to help her out when she broke her leg and we could not call for help even though I had brought my personal phone and my work phone with me.
The Iridium Satellite Network boasts 100% global coverage. As long as there is a clear line of sight to a satellite, a hotspot user should be connected in rural Pacolet, South Carolina, or in urban Hong Kong, or hundreds of miles from land in the middle of the Indian Ocean.
If you want to document an adventure 10 minutes at a time, the Somewear Global Hotspot allows you to set a pin every 10 minutes all day long. This allows your correspondents to help you plan your route or to participate vicariously in your trip.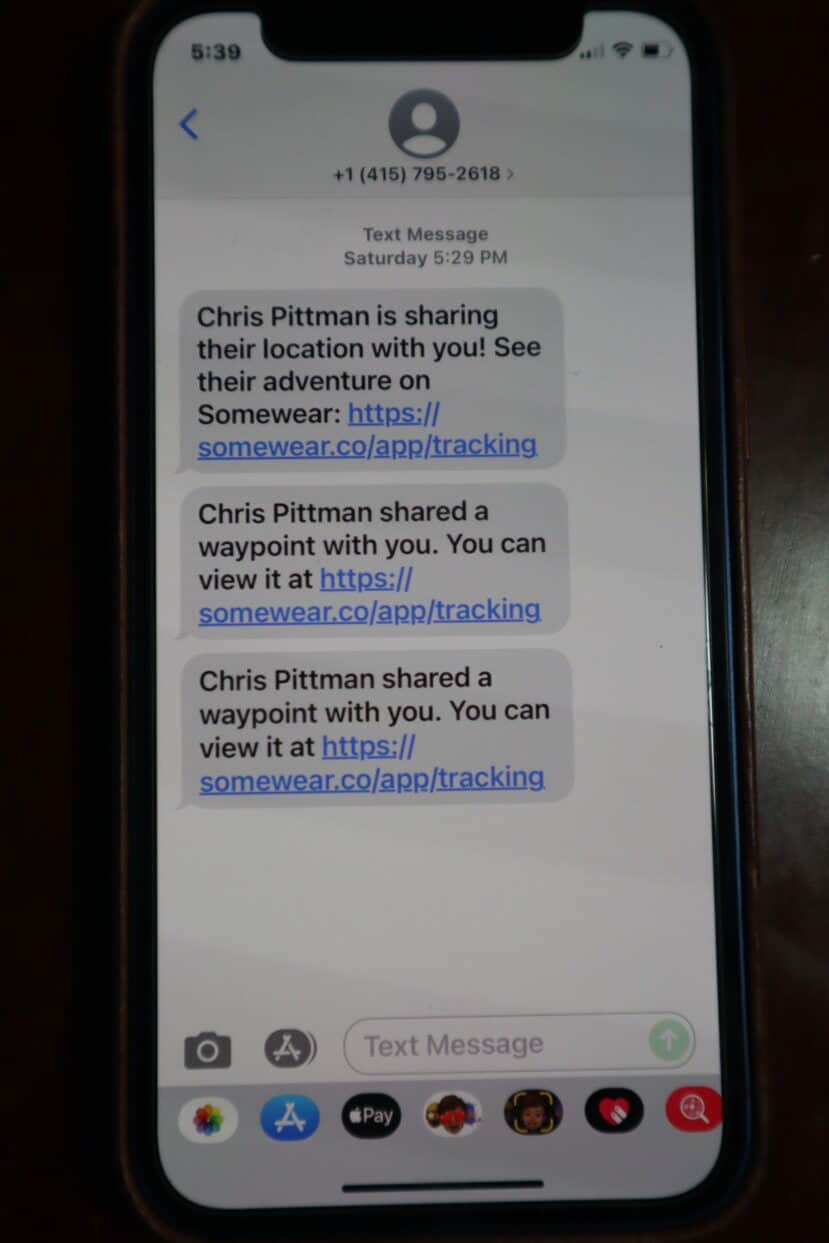 Your occupation may be dangerous and out of cell range if you work in oil fields or drive a truck cross country. There is also a tactical version of Somewear that is used by government agencies.
The Physical Characteristics of the Somewear Satellite Hotspot
The Somewear Global Hotspot is a teardrop shaped hard plastic device roughly the size of the palm of a large hand. I measured it at 4″ long, graduated from 1 1/2″ at the top to 3″ wide in the middle, and 1″ thick. On my food scale it weighs 4 ounces.
The Somewear Global Hotspot is a French blue color with a cyan blue lid. Under the removable lid is the SOS button in cyan blue. On the right side of the device when the logo is facing you is a button that you press and hold to turn it on, pair it with your phone, or turn it off. Just below the button is the micro USB charging dock, which is covered with a rubber plug that stays attached to the device when you move it out of the way to plug in the charger.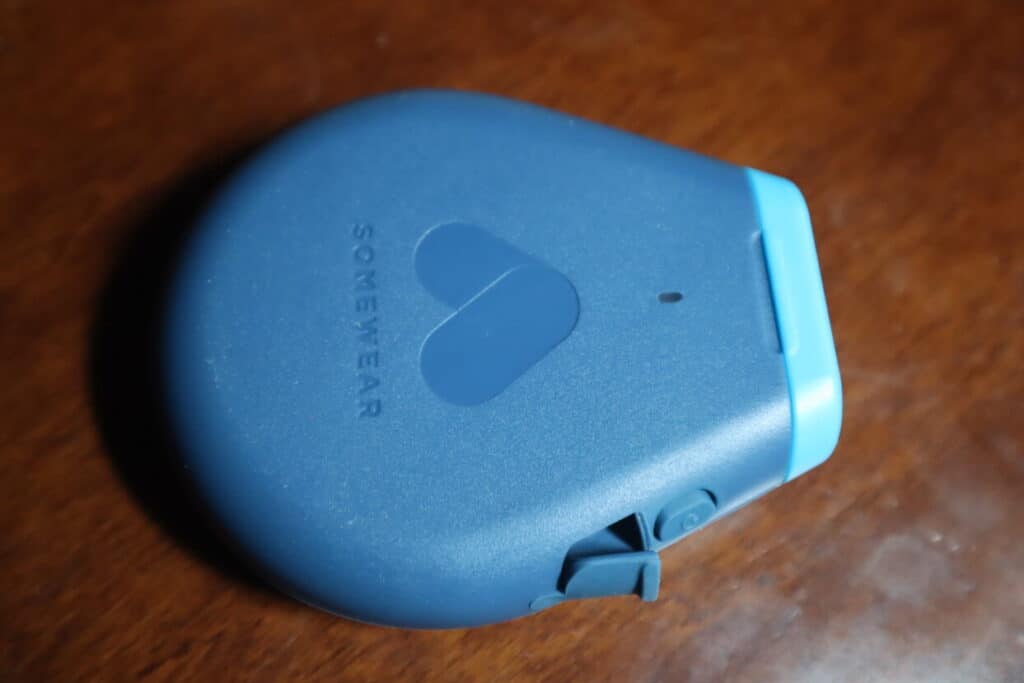 There is an indicator on the front of the device that blinks white slowly when on and quickly when in the process of pairing with your phone. A red blinking light means the device is on and has a low battery; solid red indicates that it is charging. Solid white light means the device is fully charged.
I didn't try the SOS button but the website says the top LED will blink white when sending an SOS. The bottom LED will be solid white when an SOS has been delivered to emergency responders. Both LEDs will blink white continuously when an SOS is in the process of being cancelled.
On the back of the device is a bungee cord imbedded in the plastic and attached at the top with a 1″ wide clip. The bungee cord is fortified with a thick nylon tab so that you have a bigger area to grab when attaching the device to your belt, and so that you don't wear out the thinner bungee with use.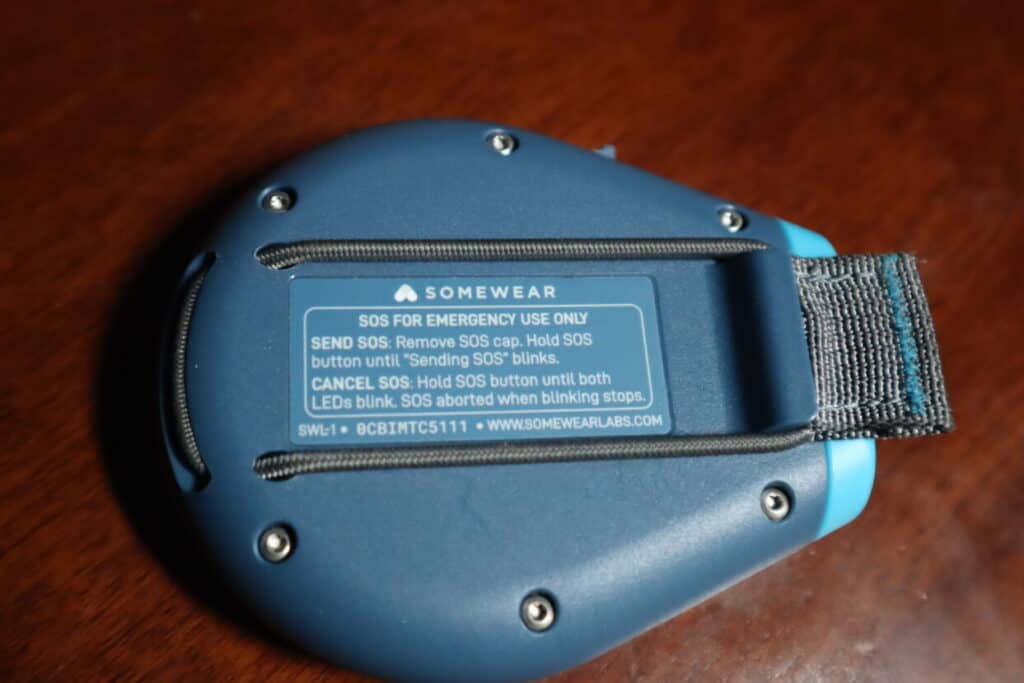 The back of the Somewear Global Hotspot
The top and bottom of the case of the Somewear Global Hotspot are riveted in six places with no user serviceable parts. On the back are printed instructions for using and deactivating the SOS button along with a serial number and the website address of Somewear Labs.
The Somewear Global Hotspot came to us in a cardboard box in a heavy padded envelope. The cardboard box measures 5″ x 5″ x 1 5/8″ and has a cutout sized to fit the device. The charger is nestled in foam at the bottom of the cutout and 2 teardrop shaped thick paper inserts give basic startup instructions.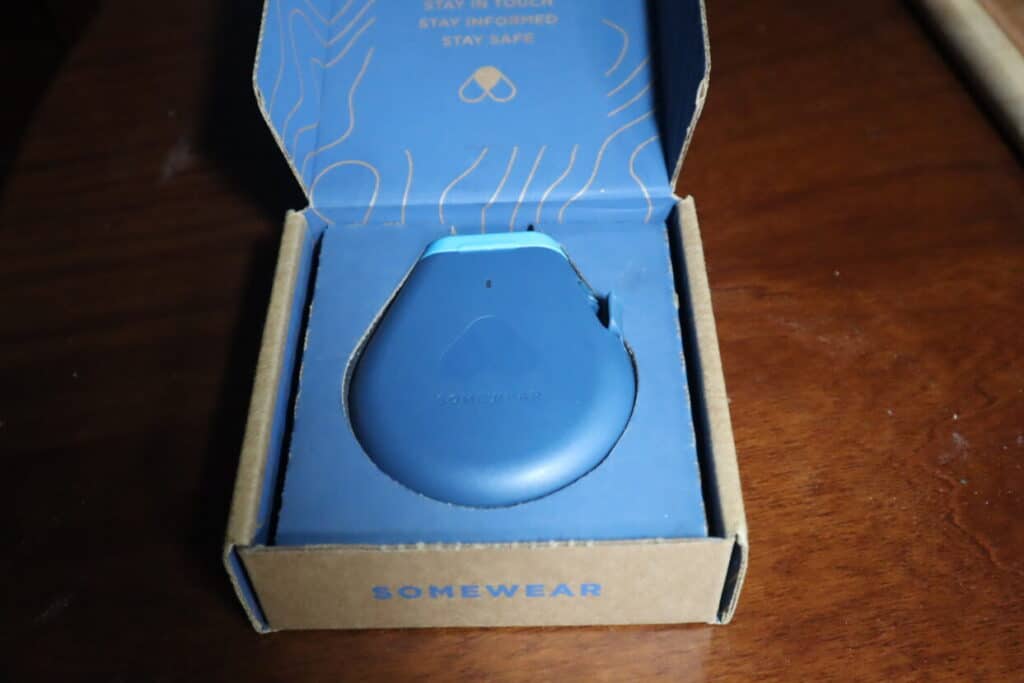 The device has only one blinking light and one button, for simplicity and for longer battery life. The website states that the battery will last for 1000 messages. The hotspot will last 10 days while sending a tracking pin every 10 minutes. Our loaner was charged when we got it and we completed our 2-week trial without having to charge it.
With a waterproof rating of IP68, the Somewear Global Hotspot is water-resistant at 2 meters for up to 30 minutes, and it floats. I floated it briefly in a bowl of water and it still worked when I took it out.
The shock and vibration rating is MIL-STD-810. That means it meets military standards for altitude, temperature shock, and a variety of conditions including gunfire vibration. It is rated for temperatures from -4 to 140 degrees Fahrenheit. We stored it in our refrigerator and drove it around in a hot car without adverse effects.
How the Somewear Satellite Hotspot Works
The Somewear Global Hotspot works with your cell signal and with the Iridium Satellite Network. It uses Bluetooth technology to communicate with your cell phone. When not running on your cell phone signal, the hotspot links with the nearest Iridium Satellite to beam your message to the intended recipient.
You can send text messages which will go to the recipient's usual messaging app. The recipient can then reply within that app. You can send an email, but your recipient can only respond after downloading the Somewear app (for free).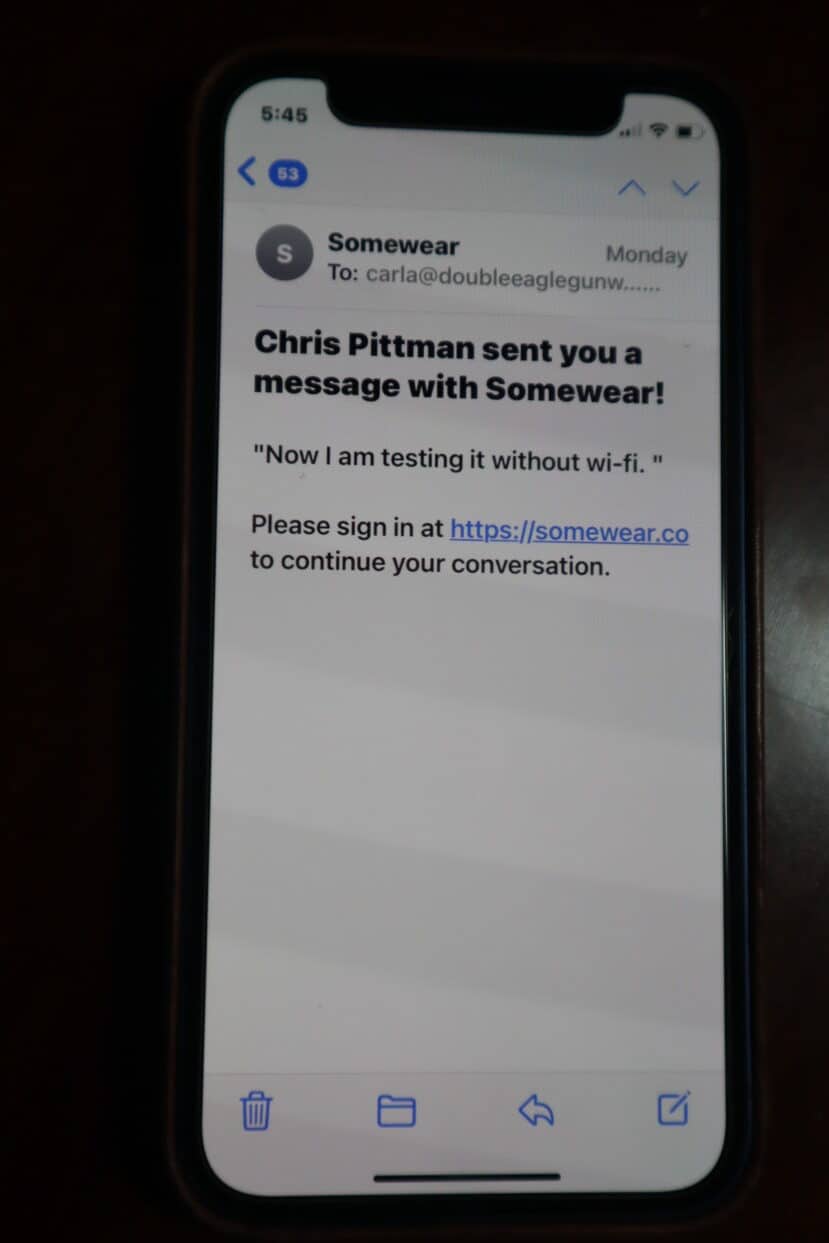 The Somewear Global Hotspot does not support phone calls.
You can download maps and weather reports specific to your location from Somewear when you have a cell signal. The satellite signal is only good for text messages, pins, emails, and SOS signals. You can look at your downloaded maps and weather reports while you are out of range of your cell signal.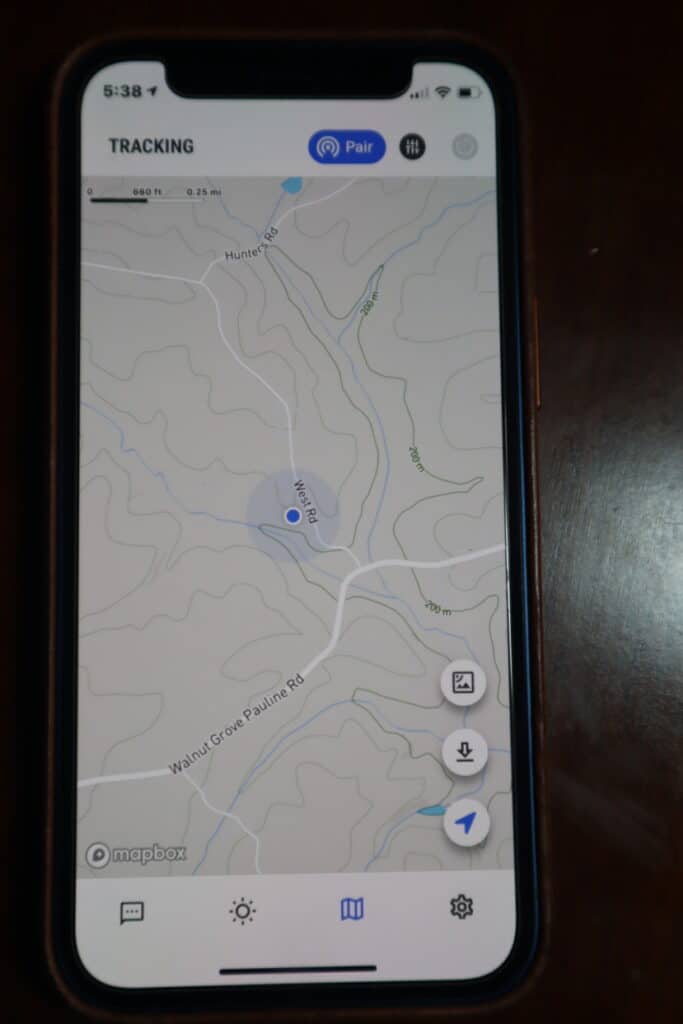 The Somewear Global Hotspot uses Smart Routing to decide when to use your cell signal and when to use the satellite signal. To avoid using your cell signal, put your phone in airplane mode.
Costs Associated with the Somewear Satellite Hotspot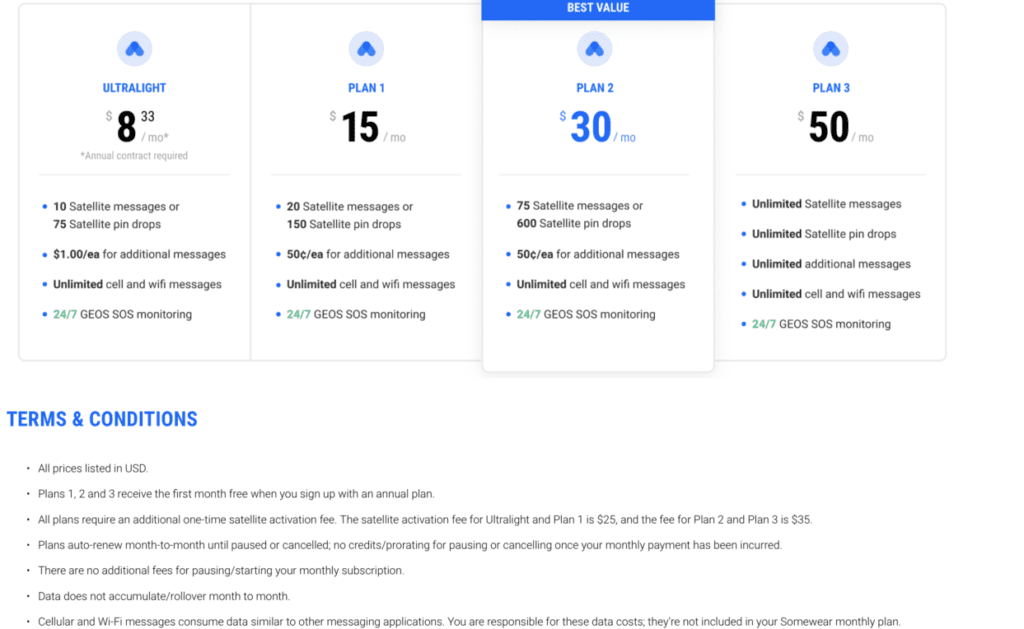 At the time this article was written, the Somewear Satellite Hotspot retailed at $279.99. Check the current price. In addition, you need a data plan, and the available plans are Ultralight, Plan 1, Plan 2, and Plan 3. See the table above. A casual user could keep the Somewear as a backup plan for less than $10 a month, and even the unlimited plan is reasonable for a person who spends a lot of time in the backwoods.
All plans currently require an activation fee. The Ultralight plan activates for $25 and the others activate for $35. Plans auto renew month to month and can be paused as needed.
Messages conveyed over your cell signal are not charged for data use. Maps and weather reports can only be downloaded while on a cell signal and are not charged to your data plan.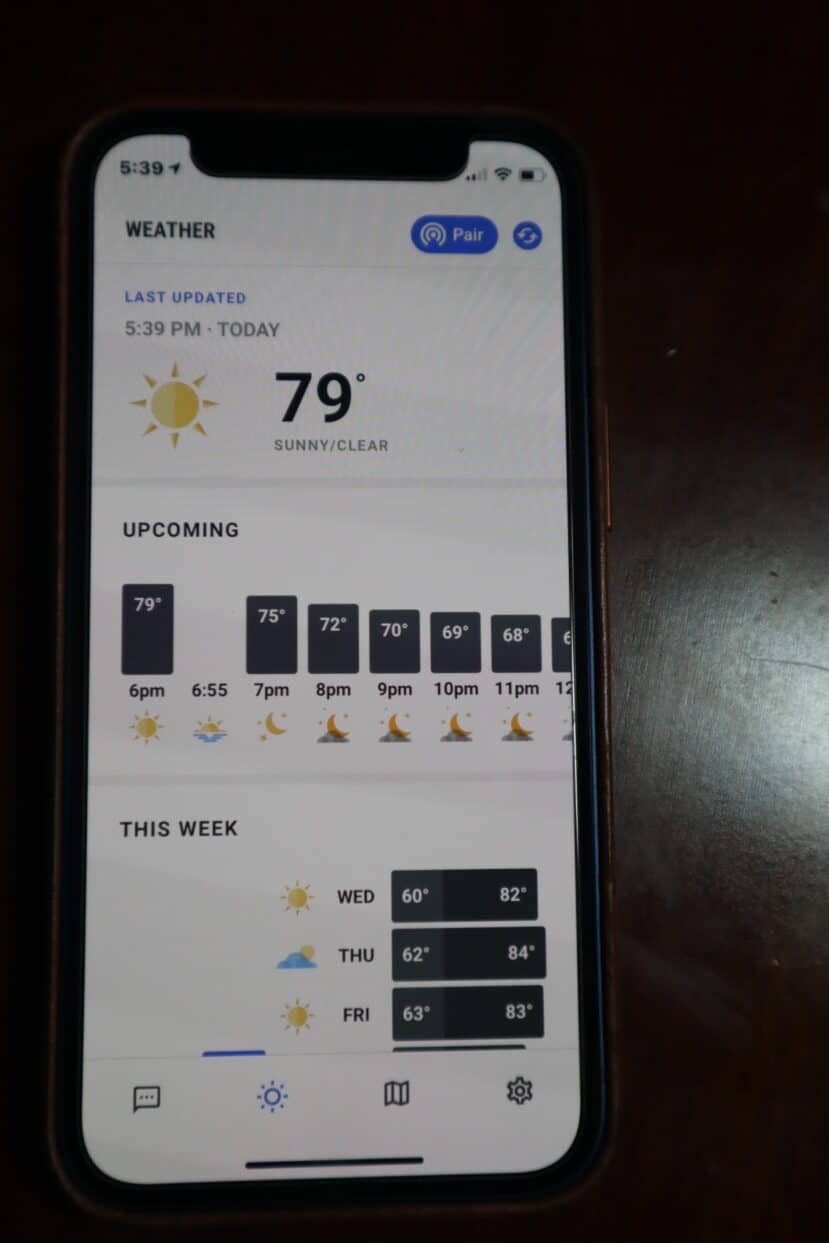 You must have your own cell phone and download the free app to use the hotspot, and you may incur charges from your cell provider when you send messages using your cell signal.
Each country has rules about sending satellite signals, so check the laws in your destination before deciding to take the Somewear with you.
Don't use the SOS unless you actually need help. Inappropriate use of the SOS button will earn you a fine of one to two hours of charges, and the current charge is $340 per hour. This is reasonable given the massive effort involved in locating you, alerting the local authorities that you are in trouble, and then mobilizing a search and rescue team to get you out of trouble.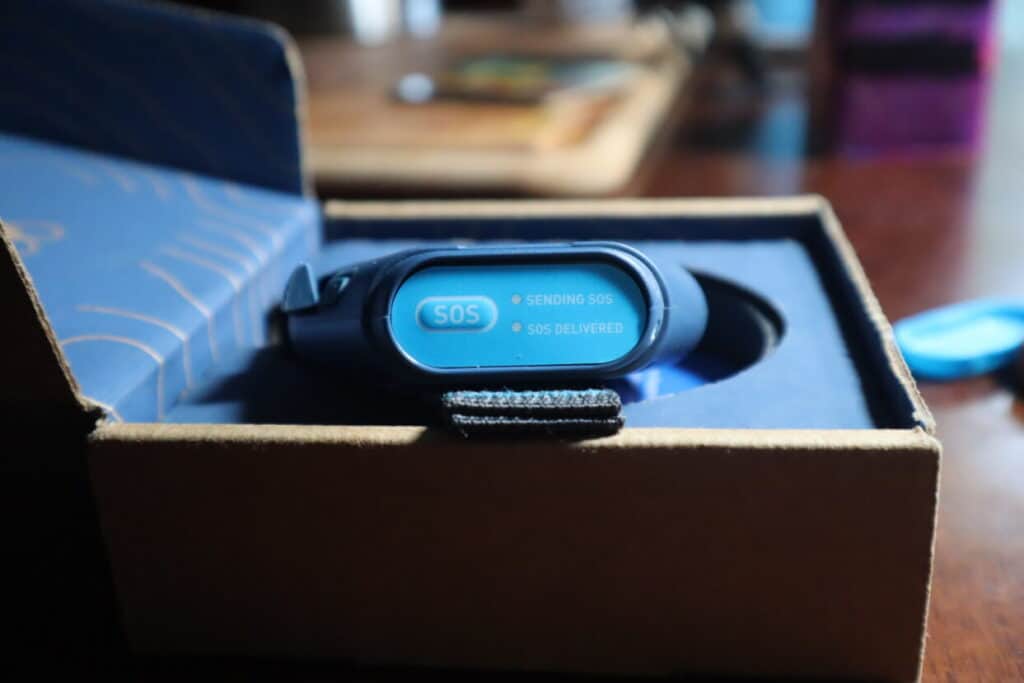 The Somewear Labs Company
On its "careers" page, Somewear describes itself as a community of pioneers, designers, and friends. Somewear sells to individuals, corporations, and government agencies.
With years of experience building product at Tesla, Apple, Intuit, Amazon and Broadcom, Somewear Labs is bringing a Silicon Valley mentality to the off-grid economy. We push the limits on a regular basis and are always talking about the next adventure. We take great pride in our work knowing that the safety of others is in our hands when they rely on Somewear for their next adventure.
The Somewear Labs Website
The website is easy to use and goes into a good bit of detail, especially in the FAQ section. The colors are easy on the eyes and the pages limit details to keep you from going into information overload.
The website features a "contact us" page so you can ask specific questions.
The Somewear Labs App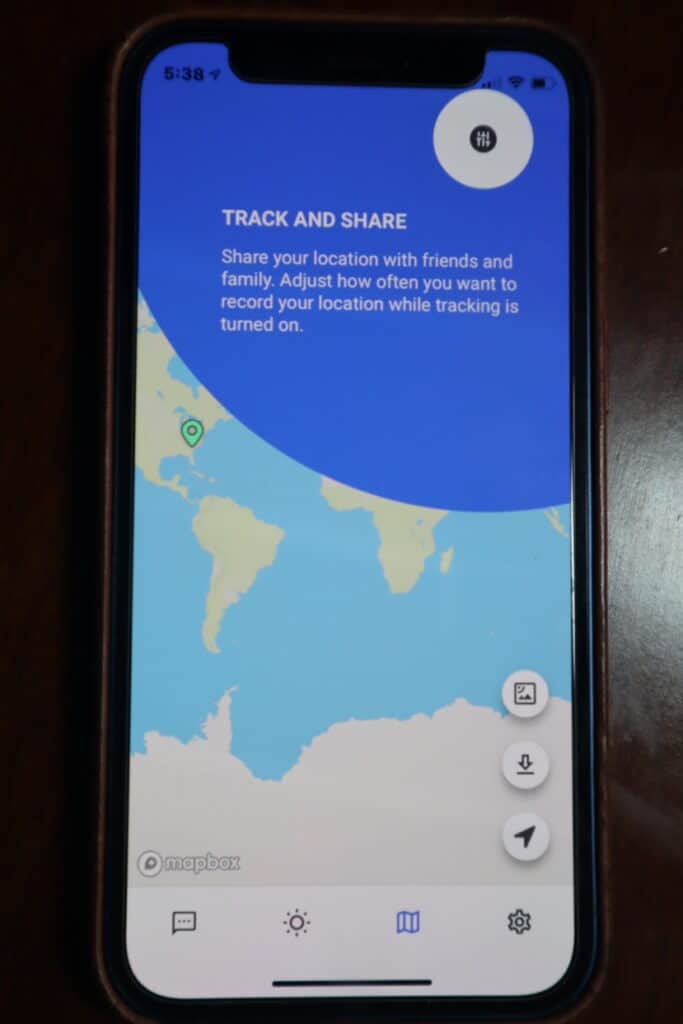 The app is available in Android and IOS formats. Each hotspot is assigned to one person. If you loan your hotspot to a friend, your friend will be using your data. You can monitor your data use on the somewhere.co website but not currently in the app on your phone.
Our Experience with the Somewear Satellite Hotspot
Our loaner device arrived within a few days of requesting it. We activated it on my husband's phone first and drove around in the boonies of Upstate South Carolina as well as the Interstate of lower North Carolina while we went car shopping. For some reason Chris thinks it is time to replace my 2008 Acura even though it only has 237,000 miles on it.
Only one person can pair with the device at a time, so Chris paired it with his phone and downloaded the app. He downloaded maps and weather reports through his phone's cell signal. Then he put the phone in airplane mode to test the satellite signal. It worked everywhere we went.
He sent me texts and I was able to reply. Since I had not downloaded the app at that point, I was able to read emails but not reply.
Later I downloaded the app and paired the device with my phone. Chris already had the app, so texting him and sending him emails looked the same. He did not have to go to his email inbox to see messages that I sent to his email address.
With the phone on airplane mode we could not download maps or weather reports, but we could read the maps and weather reports that we had already downloaded.
We went down to our creek in the dark. Chris could send messages by satellite in the dark, but my phone's cell signal was not enough to receive them at that location.
Our house is in a low spot on our property and has a metal roof with very tall trees all around. We don't have wired internet in our location, so all cell signals route through our phones and the hotspot that we use for household internet. We had to spend thousands of dollars on an antenna just to get decent phone signals.
We tested the Somewear Global Hotspot inside our house. When it faced the door that leads to the screened porch it still managed to get a weak signal. Not bad for a product that is designed for outdoor use!
I went out on our front porch amid the tall trees and next to the metal roof. I had to make an effort to face the logo toward the light between the trees, but the device eventually pulled in enough signal to send messages to Chris, who was 20 miles away at the time.
Our Recommendation
We found the Somewear Global Hotspot to be as advertised. It would be good to have around in an emergency that led to cell signal failure, such as a house fire or an adverse weather event. It would also be useful when roaming the backwoods in search of adventure.
If you just want a backup plan, go with the Ultralight plan and get peace of mind for less than a meal at a restaurant would cost. If you plan to use all the features, especially the pinning feature, go for the unlimited plan.
We realize that communication is peripheral to the subject of guns, but we chose to do this review because this product could help you stay safe while you roam the wilds with your gun. Read more about gun safety and everything else gun related on this blog, and be sure to check our our Double Eagle Gunworks YouTube videos as well.
When you are ready to purchase your next gun, or when you need to take a class to get your South Carolina Concealed Weapons Permit, head over to shop.doubleeaglegunworks.org and let us set you up with what you need to succeed. Thanks for reading!