We The People sent us another gun belt to review. This one is the Falcon Buckleless Gun Belt. See my review of the Talon Gun Belt here. Use our discount code DEG15 if you decide to buy.
We The People's Falcon Buckleless Gun Belt has all the stiffness and durability you expect in a gun belt without the extra thickness and complexity of a buckle. The long hook-and-loop strips at the ends of the belt overlap to close the belt without a buckle. The belt is made of sturdy webbing with very secure stitching and is not likely to fail or fray.
The Shipping of WTP Falcon Buckleless Gun Belt
We The People does a great job of packing and shipping its products. We received a padded envelope containing two cardboard boxes similar to pizza delivery boxes. In the boxes were my new Falcon Buckleless Gun Belt and my Tactical Leggings (see the review here). In addition they sent me a Mystery Hoodie. See this video for a review of with leggings and the hoodie.
Inside the cardboard box, the belt was rolled into a tight ball and secured with its own magazine holder, then placed in a sealed plastic bag to protect it from moisture while it traveled.
The Materials of WTP Falcon Buckleless Gun Belt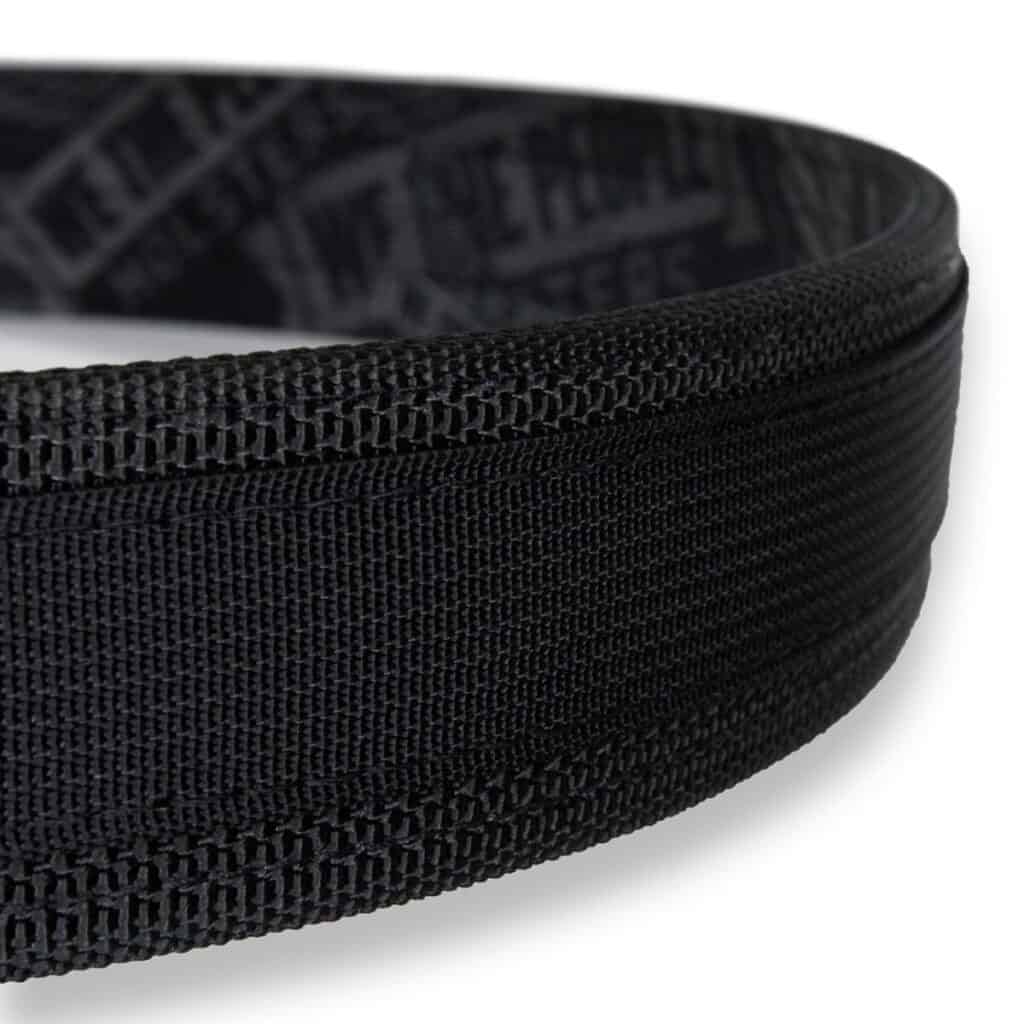 The body of the WTP Falcon Buckleless Gun Belt is composed of two layers of thick, sturdy, SCUBA webbing sewn together in straight, even seam lines. The inside is lined with fabric decorated with WTP branding.
The leading edge of the belt has soft female hook and loop on its underside and is squared off with a notch at the bottom. The opposite end of the belt has relatively flat male hook and loop on its top side, and its edge is folded over in a rounded shape that is secured to the bottom side with a patch tag secured on all four sides with soft binding.
The tag features a US Flag logo, the size (in this case M, 30-34), and the words MADE IN USA. The male velcro is secured on the topside by the end of a topstitched solid strip of nylon that occupies most of the length of the belt. The nylon strip ends with a We The People logo in a softer fabric, bound with a soft binding and stitched on all four sides.
The magazine holder is a separate piece of strong, stretchy elastic with male hook and loop on the bottom of one end and female hook and loop on the top of the other end. The male hook and loop is topped with a We The People logo in softer fabric, softly bound and stitched on all four sides.
The Workmanship of WTP Falcon Buckleless Gun Belt
WTP uses high quality materials and solid workmanship on all its products. We've reviewed shirts, a tumbler, holsters, and another belt.
Subsequent uses of the products have not caused visible wearing or failure. WTP advertises that the gun belt may outlast the wearer. I don't doubt it.
The belt easily maintains its shape around my waist. In fact, it coils into a circle when I set it on a flat surface. The edges have not wilted or sagged and there are no marks to show where I have attached my holster.
Sizing and Measurements for the WTP Falcon Buckleless Gun Belt
S: 24″-28″
M: 30″-34″
L: 36″-40″
XL: 42″-46″
2XL: 48″-52″
3XL: 54″-58″
4XL: 60″-64″
I am between sizes on the chart, so I chose to go up to the medium instead of going down to the small. The hook and loop is long enough to provide a generous overlap, so I would have been just fine in a small. As a matter of fact, a small would have been better because the hook and loop wraps around a little too far and the double thickness means I have to pay attention to where I attach my gun.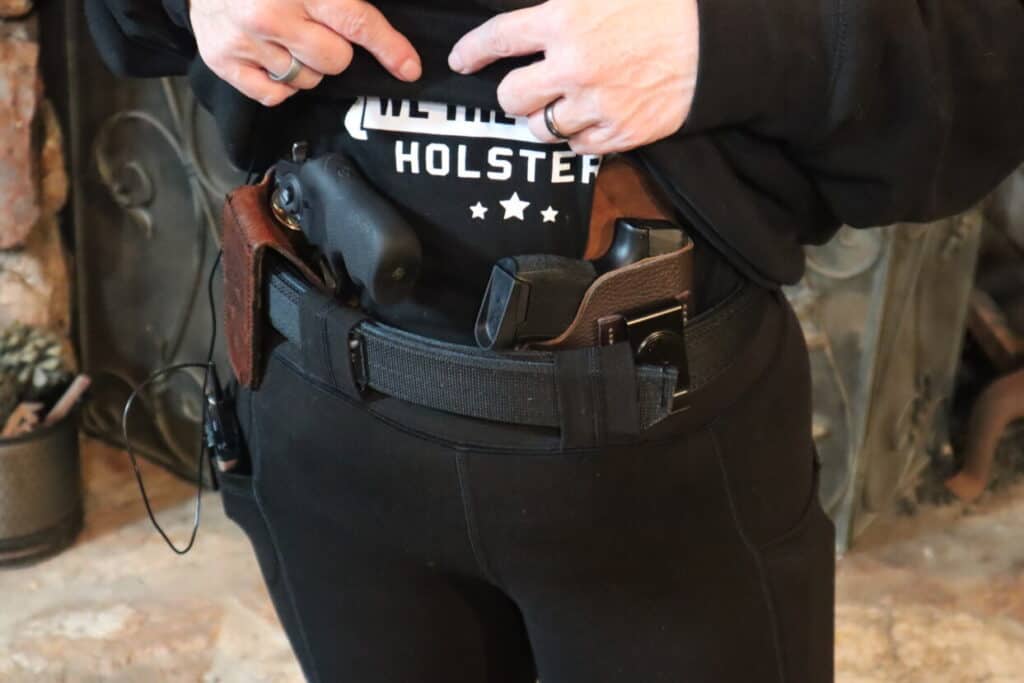 I measured the size medium for you, and you can extrapolate to your own size. The entire length of the belt is 44 3/4″ and the width is 1 1/2″ with a thickness of 1/4." Bear in mind the overlap at the front, which will double the thickness. I was able to fasten a holster over the doubled thickness but it was tough.
| | |
| --- | --- |
| Length | 44 3/4″ |
| Width | 1 1/2″ |
| Thickness | 1/4″ |
| Weight | 8 ounces |
| Hook and Loop Overlap | 9 5/8″ |
Measurements for the WTP Falcon Buckleless Gun Belt in Medium
The female hook and loop is 9 5/8″ on the underside of the leading edge and the male hook and loop is 10″ on the topside of the opposite end, providing a great deal of adjustability on those days when you have more to carry, or when you need to carry your gun right after a big meal.
The extra layer of binding on the top measures 27 5/8″ and keeps the hook and loop layers in place. According to my food scale, the belt with its mag carrier weighs exactly 8 ounces.
The mag carrier, which I also found useful for carrying a pocket knife, measures 5″ x 2 7/8″ and provides a great deal of stretch with good rebound. You should be able to secure your magazine firmly in place by wrapping the mag carrier around your belt wherever you find room.
Looping the WTP Falcon Buckleless Gun Belt Through Your Pants
I am used to the smooth, easy looping of fashion belts, so my initial impression of thick, stiff gun belts was not favorable. The WTP Falcon Buckleless Gun Belt, however, is easy to slide in and out because there is not a thick buckle to get in the way. The hook and loop caused a small pause at each loop, so be careful if your pants are made of a delicate fabric.
Fastening the WTP Falcon Buckleless Gun Belt was as simple as finding the right place to overlap it for your waist size. Having chosen a larger than optimal size, I had to thread the edge back through a front loop and then adjust the area of double thickness to attach my holster at my desired appendix position.
I am left handed, so I typically carry at left appendix when I wear an in the waistband holster. See this article for an explanation of different holster types.
Going to the Bathroom While Wearing WTP Falcon Buckleless Gun Belt
The most frustrating element by far with wearing a gun belt is dealing with occasions that require sitting down in the bathroom. Men deal with this issue only rarely, but women sit down with each trip. You have to be sure the belt is stiff enough to keep the gun upright even when your pants travel to a different position as you answer nature's call.
With a typical soft belt I don't trust the process, so I end up finding a place to set the gun and its holster while I do my business. This is not a problem at home, but it can be tricky in a public bathroom. You can't set your gun on the floor in a place where the stalls stop short of the ground. Nor am I interested in placing anything but my shoes on the floor of a public bathroom
The WTP Falcon Buckleless Gun Belt will not flip or roll as you take down your pants, but you still have to be mindful of the speed and angle of descent. Happily there is a unique workaround with the hook and loop overlap of the buckleless belt.
Because I had lots of overlap, I adjusted the belt to its most generous position and actually kept it buckled all the way through the process. If this puzzles you, think of a circus clown with a really big belt that doesn't actually touch his waist. His pants are suspended from the hula hoop sized belt and he has complete freedom of movement. Watch the video above for a fully clothed demonstration of the maneuver.
Wearing the WTP Falcon Buckleless Gun Belt With a Holster
As you can see from this photo, I decided to try wearing two holsters at once. This was accomplished, but I really don't have enough room around my waist to walk around comfortably with both guns. I started with a WTP Kydex holster, which I easily and securely attached to the gun belt.
I prefer leather, though, so I walked around with my husband's P365 in a 1791 Fairchase holster made out of soft deerskin. This was comfortable enough that I soon forgot about it.
The next day I attached my Ruger LCP revolver on a magnetic holster from Gun Tote'n Mamas (for which I can no longer find a link). The magnetic clasp did not like the extra thickness where the two ends overlapped, but I was able to secure it in that position well enough. Then I repositioned the belt so that the magnetic holster did not have to straddle the double thickness.
The belt loops of my favorite jeans (Chaps Boyfriend Slim Fit) and my WTP Tactical Leggings both accommodated the belt thickness without a struggle.
WTP Products are Made in the USA
American companies often outsource some or all of their products to foreign countries such as China, where the labor is cheaper and different standards apply. Not so with We The People. They are headquartered in Las Vegas, Nevada and proudly declare that their products are US made.
WTP's Guarantee
We The People will send you the right size belt if you choose the wrong one. They offer a lifetime warranty against manufacturing defects.
If you are unhappy with your purchase you can send it back for any reason in the first 30 days and get a refund.
My Recommendation
As a small women with a short torso I don't usually wear a gun belt, so I was surprised that the WTP Falcon Buckleless Gun Belt actually ended up being comfortable. I can't deal with Kydex holsters as a rule, but this belt worked just fine with leather holsters.
Use our discount code DEG15 to get a 15% discount.
Measure your waist (because your pant size is not a reliable indicator, especially for women) and get the belt that fits that number. Both my husband and I ordered larger than we should have, so consider going down if you are between sizes. If you get it wrong, just contact WTP and exchange your belt for the right size.
WTP gets an "A" for patriotism, materials, workmanship, and pride in their products. When they sent us a holster that did not fit our gun, we sent them a picture and they actually remade the mold. We just received the new holster and will post a review soon.
Thanks for reading my blog. Visit often to learn all about guns, with a focus on safety and concealment. If you need a CWP class in South Carolina, see our class schedule and join us! 
If you are in the market for a gun, please visit shop.doubleeaglegunworks.org to see our gun deal of the week. Guns are finally back in stock and there's a good chance we have something you want. Just to get you there, I'll give you $10 off a purchase of $60 or more with the coupon code COM10.
Join our newsletter to receive the notice about our deal of the week and anything else interesting that we have going on. Watch our Double Eagle Gunworks YouTube channel to learn more about guns and gear.
When you decide you are ready to carry a gun, please protect yourself by visiting US LawShield. You only get one chance to defend yourself.