Recently Olight sent us a sample of their Limited Edition i5T EOS Brass flashlight to review. We found it to be compact, clippable, and sufficiently bright to light up the night.
The Specs
From the Olight website:
TECHNICAL CHARACTERISTICS
Beam Distance (ft)
196
Beam Distance (m)
60
Max. Performance (lumens)
300
Charge type
Optional Charger
Compatible Batteries
1.5V AA Alkaline Battery (included) /AA NiMH Battery (compatible)
Light Intensity (candela)
910
Light Form
Wide/Broad Hotspot. Perfect for up close illumination.
Lens / Reflector Type
PMMA Optic Lens (big, defined wide hotspot)
Mode Operation
Tail Switch
Form/Size Factor
Small Size (Car key / Zippo Lighter)
Series
Series I
LIGHTING LEVELS
LEVEL 1 (lumens) 
300~150~30
Run-time LEVEL 1
3+25+122 mins
LEVEL 2 (lumens)
15
Run-time LEVEL 2
20 hrs
Strobe
No
SOS / BEACON
No
Waterproof
IPX8
Weight (g / oz)
101.5/ 3.6
Length (mm / in)
95/ 3.74
Head Diameter (mm / in)
17.8 / 0.7
Body Diameter (mm / in)
17.8 / 0.7
Led
High Performance Cool White LED
Packaging
Carton Blister
Use
keychain, everyday carry, gift, outdoor, home
Package Contents
i5T EOS Brass (1.5V AA Alkaline Battery Included) X 1Pocket Clip X 1User Manual x 1
The Aesthetics
The i5T EOS Brass flashlight is a shiny brass color in a durable metal that makes it heavy for its size, weighing in at 3 1/2 ounces when I put it on my food scale.
The spiral pattern etched into the metal makes it easier to grip but also adds visual interest. The pattern reminds me of the threads on a screw.
Portability
Refer to the video above to watch Chris wear it on the brim of his cap. It has a large pen clip securely attached to the barrel. The clip is removable with a strong tug and clicks back into place with a solid click.
The clip is sturdy and tight enough to stay on securely. It rotates all the way around the barrel due to a groove cut into the case.
The clip has a hole big enough to attach a lanyard so you can hang it around your neck. Due to an extra fold, you can clip it in your pocket facing up or down with equal security.
If you prefer to slip your flashlight into a pocket, it will fit in a front shirt pocket or clip into a pants pocket. Its thickness is similar to that of a marker or large penlight.
The length of the flashlight is just under 4 inches and the diameter is .7 inches. The bulb is a high performance cool white LED light.
When I held it in my hand its length was a little more than the width of my palm and its diameter allowed me to close my hand easily around it. When I held it like a pen I had to use the other hand to turn it on and off.
I switched to a sideways hold and discovered that I could click the switch with my thumb and direct the beam at a perpendicular angle to my pinkie.
This would be useful if I had something else in the other hand or if was in a struggle to keep someone from taking it away from me. I would have my flashlight hand in a fist position, ready to defend myself.
Capability
This is a brand new product. Having just laid my hands on it this week, I can't speak to longevity, but it is sturdy and solid. The low setting for the light is a diminutive 15 lumens, just right for navigating to the bathroom in the middle of the night without hurting your eyes.
The high setting is a nice bright 300 lumens, suitable for brightening dark corners with a concentrated beam of light. It is designed for close illumination.
If left on 3 minutes the 300 lumen light will dim to 150 lumens. After 122 minutes, the light will dim to 30 lumens to save the battery. At 15 lumens, the light has a 20 hour runtime.
User Friendliness
I found no hard edges or sharp points on the 15T EOS Brass flashlight. The weight balanced evenly in my hand and attached securely to my pocket. I found the single control intuitive and easy to activate.
Just press the spring loaded switch to turn it on and off. Hold the pressure on the switch for a few seconds to alternate between the high and low settings. If you want to flash signals, use brief pushes on the switch to activate the light as long as you maintain pressure.
To change the included AA battery, screw off the end opposite the light beam. I had no difficulty with the screw mechanism in terms of effort required. The threadwork was high quality and easy to direct into place.
The directions were brief and clear, on a map-folded insert, in 19 languages.
The threaded barrel of the flashlight gave me traction without irritating my skin.
The Packaging
The flashlight was delivered in a cardboard shipping box. The box for the flashlight was compact, thick, and sturdy, with molded inserts to keep all parts snugly in place. The box came in covered in thin plastic wrap to keep out moisture during shipping.
The top of the box fit securely over the bottom and would make a great place to store the flashlight when not in use. The flashlight itself was ensconced in a thick plastic blister wrapper that was removable without the use of scissors or a knife due to notches cut into the edge of the plastic.
The plastic was vacuum sealed and included an oxidizer pack to absorb any remaining oxygen within the packaging. This prevents the brass from tarnishing in the package.
An insulating film was inserted between the battery and the bulb in the flashlight to prevent activation of the light during shipping.
Along with the flashlight came the map-folded instructions and a yellow plastic insert with drawings and instructions for installing the batteries. The yellow insert immediately drew my attention to the instructions.
The Company
Olight has a reputation for high quality products suitable for tactical use as well as everyday carry. They manufacture flashlights, gunlights, lasers, and other lighting products. The company is headquartered in Guangdong, China.
Olight does have a location in Marietta, Georgia, and US orders are shipped from the Georgia warehouse.
The Warranty
Olight promises a 30 day money back guarantee and a five year warranty, with free shipping for returns. Keep the original packaging. Phone service is not available due to COVID 19 precautions, but help is available by email.
Where to Get the Olight i5T EOS Brass Flashlight
Our Recommendations
Watch the YouTube video featured above to see Chris put the i5T through its paces. We found it to be sturdy, easy to use, highly portable, and aesthetically pleasing. We recommend you get one if you need a compact flashlight.
Other Lights to Consider
Olight makes a variety of excellent lights. Consider one of these if the i5T doesn't tickle your fancy.
The O'Pen 2 doubles as a pen and a light. The Obulb magnetically attaches to household surfaces to provide extra light where it is lacking. The S1R Baton II is a rechargeable compact light for everyday carry with an extra-bright 1000 lumens. Click the banners be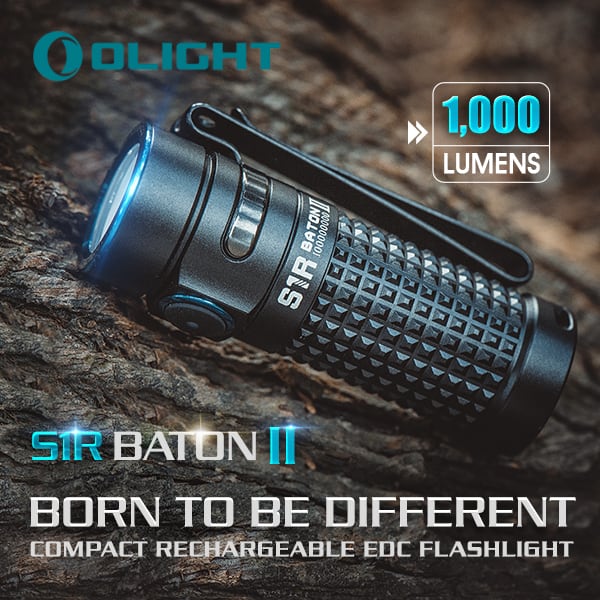 Double Eagle Gunworks provides onsite education including Concealed Weapons Permit classes. If you live in South Carolina, contact us to schedule your individual or group class.
Consult our calendar to see when classes are scheduled. Keep reading our blog and sign up for our newsletter. Check out our YouTube channel.