When choosing a holster, make comfort your top priority. If you can't stand to wear it, you won't stick with it. Retention, accessibility, durability, and ease of concealment will also factor in when you choose your holster, and what it is made of will influence all those variables.
Holsters can be made from canvas or even lace, but mostly you will find leather and Kydex. Leather is the hide of animals, either softened to fit the contours of your body or stiffened to hold the gun firmly.
Kydex is a thermoplastic acrylic polyvinyl chloride (PVC) composite. It is tough and rigid and can be manufactured to fit the exact specifications of your gun. Kydex is water and sweat-resistant, scratch-resistant, and unlikely to stretch or shrink. It can, however, scratch your gun.
Leather
My husband prefers a holster that is soft, without sharp points. The rigidity of Kydex tends to rub him the wrong way. His holster of choice is leather and inside the waistband (IWB).
Like most gun owners, we have run through a few holsters. I started with a rigid leather holster sized for my first revolver. Here is a rigid leather holster at Cabela's.
It rested inside my waistband and was fine until I needed to go to the bathroom. Since I do that multiple times a day, that holster is now attached to the bed frame for surprises that might occur at night.
We found a unique holster made by a leather crafter in North Carolina that is basically kidney shaped with a slit on each side. It was designed to be worn on a sturdy belt outside the waistband.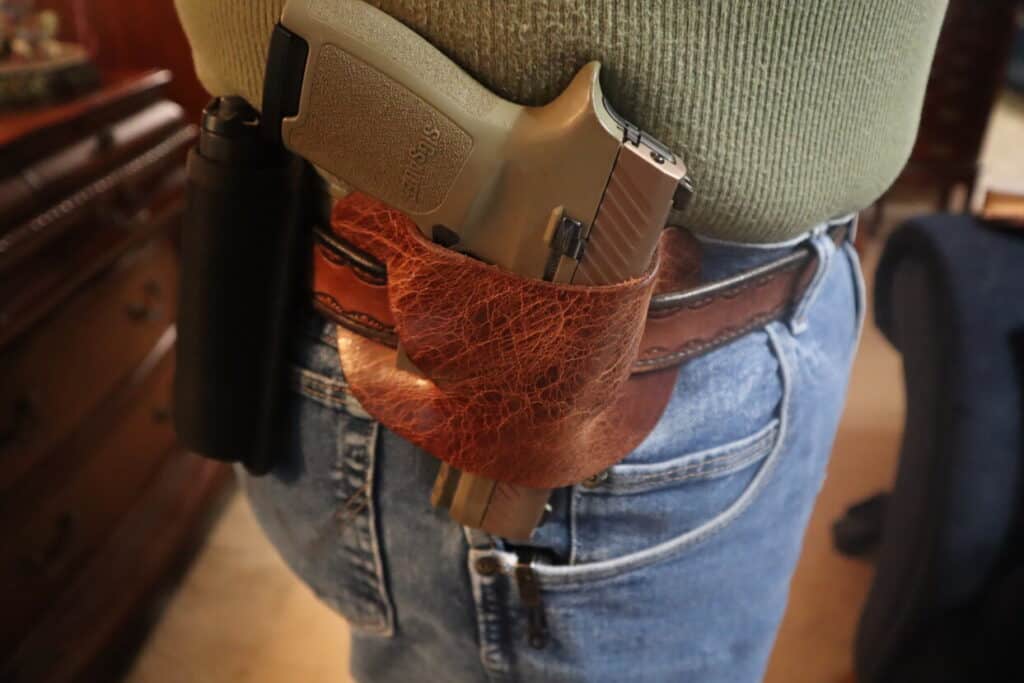 That worked well when worn as instructed, but I wanted to wear it on a stretchy belt under my clothing to address the aforementioned bathroom issue.
It did not work for that because the belt was uncomfortable against my waist. I don't want an outside the waistband holster (OWB) because I like my shirts fitted and the OWB would make too big a print.
Next I tried a softer leather IWB holster that fit the next gun I bought. I use it for short trips when I am just going to get groceries, or when I have to leave the gun in the car while I work. It is easy to put on and take off. It has a magnet rather than a strap to secure it.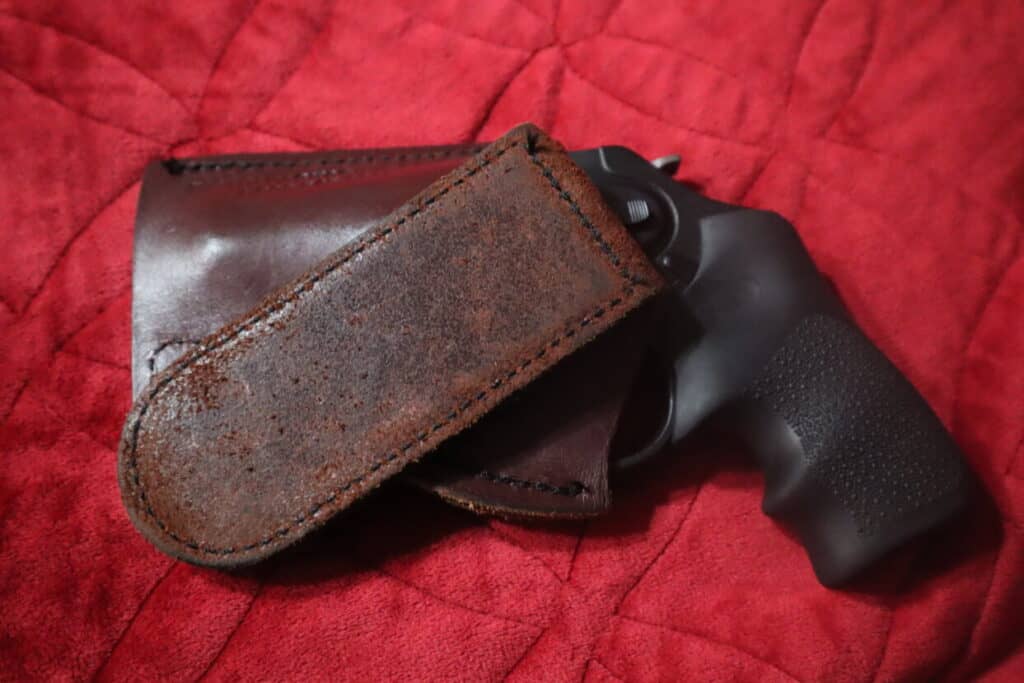 Neoprene
I have a stretchy belly band made of neoprene with a giant Velcro fastener. It is nice and warm in the winter but not so great in the hot summer sun. I always wear another layer under it because the Velcro can be scratchy with even a small misalignment of the layers. You can get a nicer one from DeSantis at Cabela's.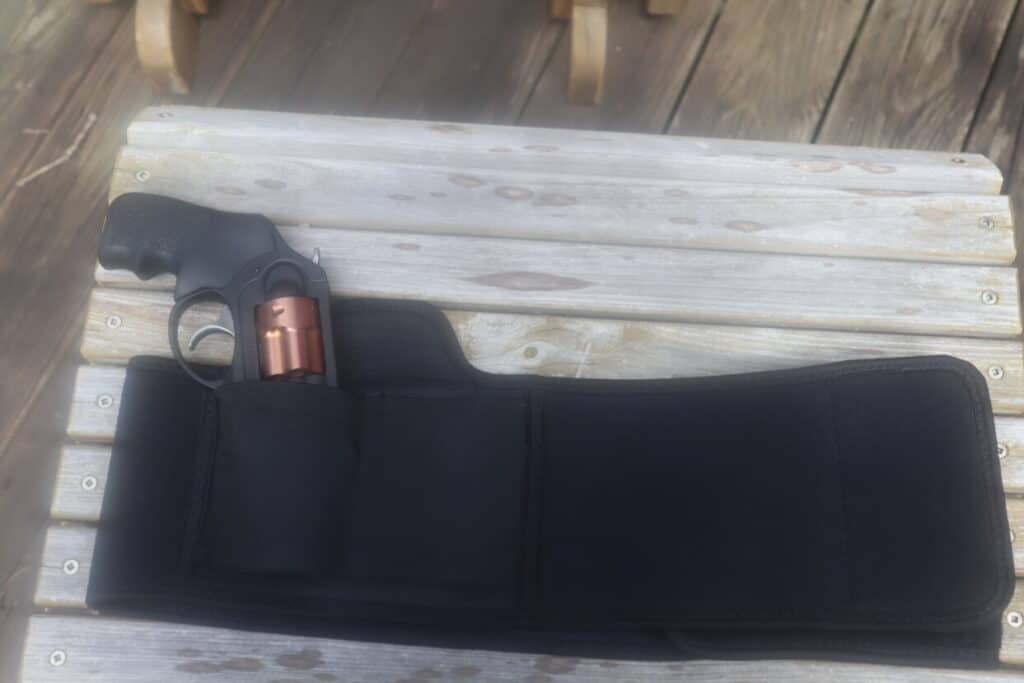 My husband has a neoprene ankle holster, but does not wear it much because the Velcro closure rubs against his skin. Galco makes a better one that is available at Cabela's.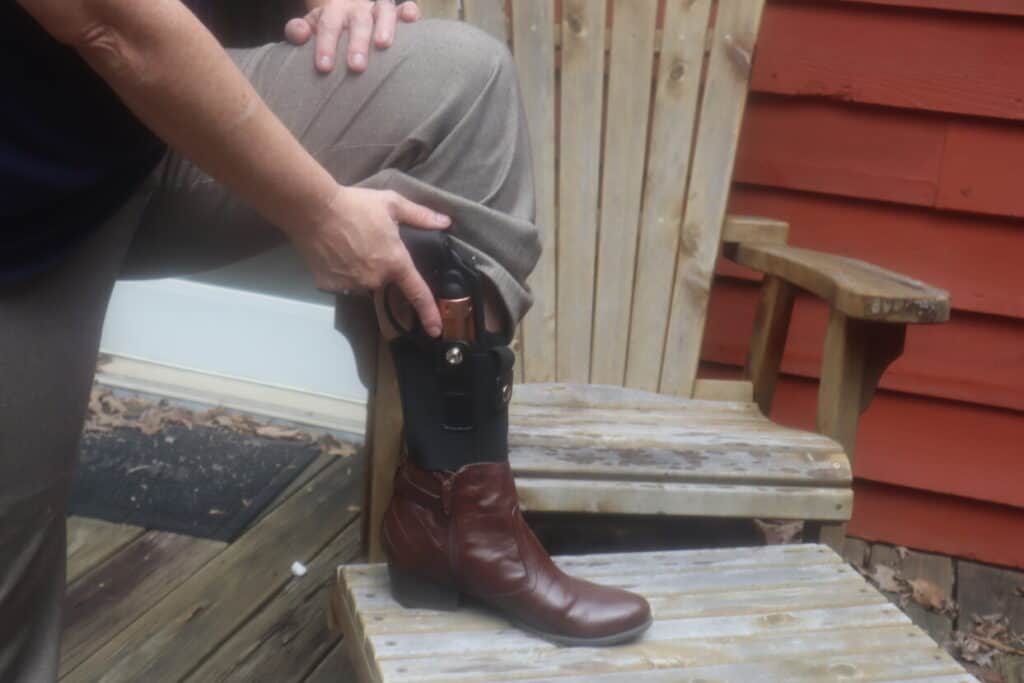 Heavy Fabric
My current favorite is a kangaroo-style pouch that wraps around my waist and has two pockets that cover my belly. The brand name is Thunderwear.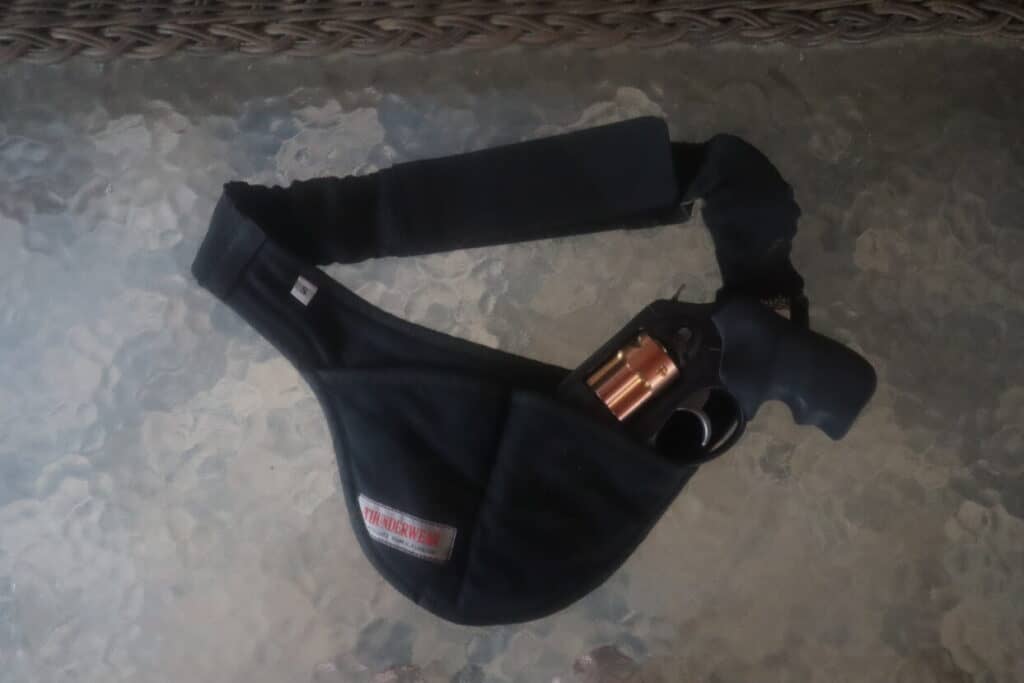 It provides deep concealment and I can adjust the position in which it rides by fastening the elastic waistband more or less tightly. Since pants have varying waistband heights, I find this feature indispensible.
Lace
The lace holsters are aimed at women. You wrap a very long piece of lace around your waist, ankle, or thigh and position the pocket to hold the gun.
I found a lace garter belt holster at Optics Planet.
Sticky Material
You can buy holsters made of a fabric that encourages friction. You place it between your clothing and your skin and it stays put. The gun draws easily from it and the holster stays behind.
The directions included in this one advise wearing a belt to keep it from shifting with increased activity.
For women, this method could fail when you go to the bathroom, so you would need a place to set the holster. You may not have that in a public bathroom stall.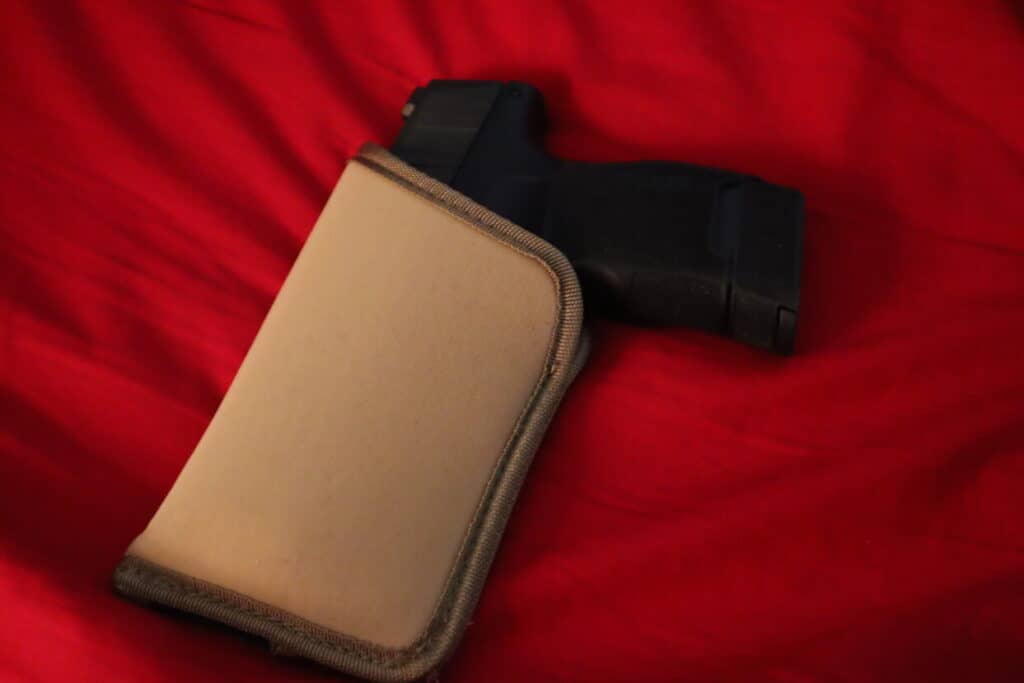 Friction holsters would be ideal for pocket carry, with no sharp edges and no added bulk from clips. The gun would leave the pocket when you draw and the holster would stay in place.
The problem is making sure your pockets are big enough for the holster. Women's pants in particular have small pockets. Here is one from Blackhawk at Cabela's.
Canvas
My husband has a shoulder holster made of canvas, but he does not use it because of the relative difficulty of reaching it when wearing a button-up shirt. It works better with a jacket over it. Here is a similar model by Crosman at Cabela's.
I put it on my sewing mannikin to model it here.
Nylon
My husband has a nylon holster that has adjustable retention straps to fit any full size semi-automatic. It is designed for OWB.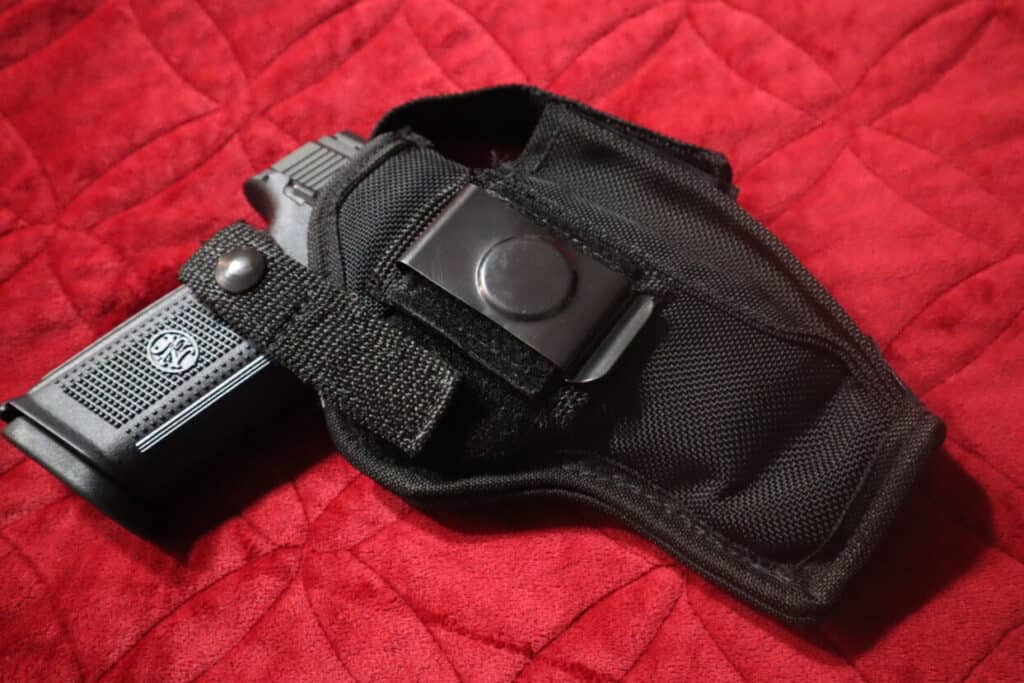 It performs well with the retention straps but he finds that it collapses when he draws the gun. This makes reholstering difficult.
Kydex
My husband has a variety of IWB and OWB holsters in leather and Kydex. The Kydex holds the gun well but rubs his side in the IWB position even with a t-shirt under his outer shirt. Here's a different one from CrossBreed at Cabela's.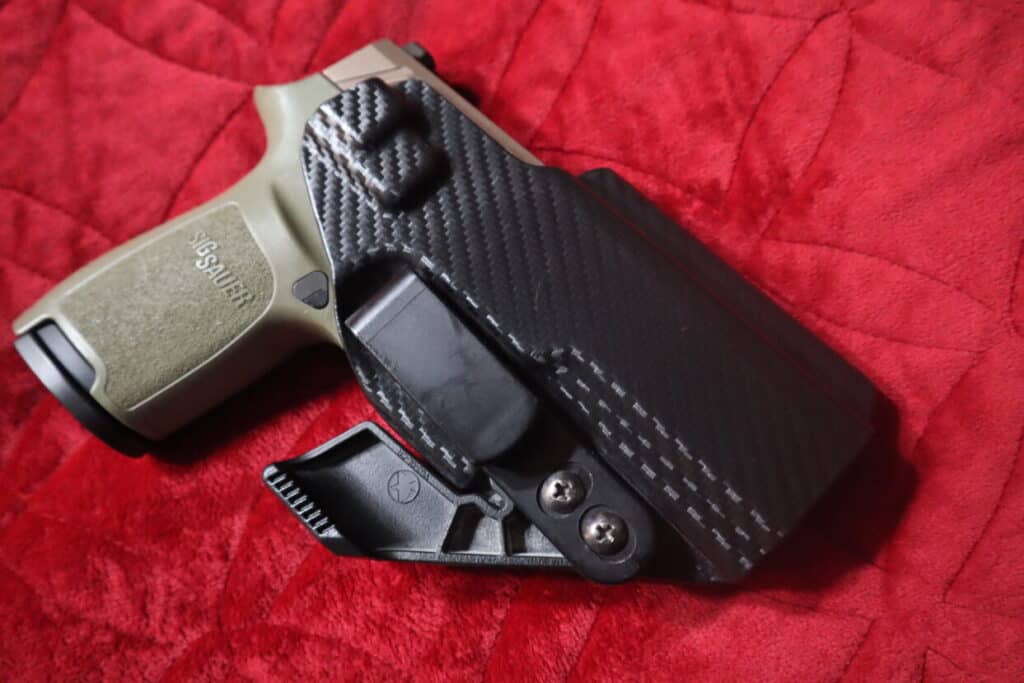 The leather OWB holsters are comfortable but they are harder to conceal with a thinner shirt, so he limits them to colder days when he can conceal them under a jacket.
Assess the Comfort of The Material
Your holster needs to be as comfortable as possible so that you will continue to carry. If you come home every night and find a sore spot rubbed into your side from the sharp edges of a poorly made holster, you are more likely to come up with reasons not to carry.
A gun will only help defend you if you bring it with you.
As a woman, I have a preference for soft, pliable materials in clothing and accessories. The holster will be resting against me all day, and I find friction bothersome. I tend to wear a tank top under my shirt that I can tuck in to keep the holster from touching my skin directly.
Retention is Key to Safe Carry
Dropping your gun will make you and those around you very uncomfortable. Choose a holster that firmly retains your weapon when stretching, bending, and running. Belly bands are good for jogging because they are pressed against your belly in a deeply hidden pocket.
Kydex or leather holsters molded to the exact model of your gun do an excellent job of holding it in place, and may even have a lever that you have to press to remove the gun.
Straps and snaps improve retention for softer fabrics.
Friction holsters depend on your clothes staying put. Lace holsters depend on your skill in wrapping them.
IWB and OWB holsters stay attached with clips and depend on the rigidity of your belt. Using the bathroom will be tricky with items clipped to your belt.
Consider Accessibility of the Gun
Your gun needs to be available quickly. The materials that allow you to carry on or in your waistband have an accessibility advantage over the deeper carry of the belly band or holsters that wrap around your ankle or thigh.
Deeper concealment means moving more clothing out of the way and reaching in deeper at a time when seconds count.
Choose a Durable Material For Your Holster
Kydex and leather will last longer than fabric. Stretchy materials will eventually lose their stretch. Lace, nylon, and canvas will show wear.
Consider cleaning as well. You may be able to throw your holster in the washing machine, which is nice after it spends so much time against your hot body in the summer or if you have a job that involves getting dirty.
A rigid material may just need a wipedown with a soft cloth to return to its original state.
Find the Right Belt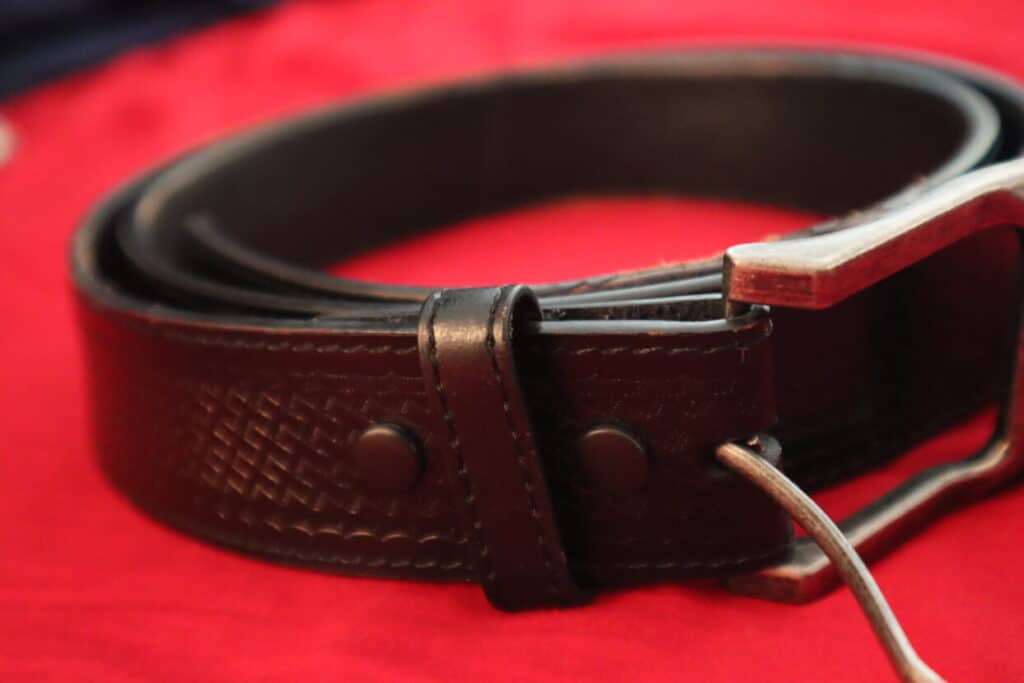 I have made the mistake of trying an IWB holster with a stretchy waistline and I did not make it out the front door because there was no way to keep the waistline from creeping downward.
For holsters that depend on your waistline, you need a strong belt. The one pictured above is my husband's and he replaces it often because the holster clips wear against the edges.
It would be better to spend a little money for a nicer belt that can withstand daily clipping and unclipping of holsters. Crossbreed sells very nice belts specifically for use with holsters. Here is a listing at Brownell's.
Consider Ease of Concealment
Rigid materials with harder edges will be harder to hide under clothing. Softer materials and stretchy fabrics will mold to your body.
Choose the material that appeals to you, and don't be surprised to find yourself eyeing a new one every now and then. Holsters are like potato chips. You probably won't be satisfied with just one.
For a deeper dive into concealed carry clothing, choose my article on concealed carry for men or women.
When you are ready to carry concealed, contact Double Eagle Gunworks LLC. Chris can provide education on the gun topic of your choice privately or in groups. Sign up for our newsletter to keep informed of our offerings.
Watch our calendar for the next Concealed Weapons Permit class. Visit our Double Eagle Gunworks channel on YouTube for helpful videos on a variety of gun topics.
As a Federally Licensed Firearms Dealer, Chris can help you with the sale or transfer of a firearm.