Double Eagle Gunworks LLC recently became a dealer for Specter Gear. If I am going to sell something, I need to understand how it works. I enlisted the help of my personal shooting instructor, my husband Chris, to find out who needs a rifle sling and what to do with it once you get it.
A gun sling, simply put, is a way to carry your rifle or shotgun without using your hands. Rifles and shotguns have attachment points that allow you to connect a sling at one, two, or three points on the gun.
You put the sling over your shoulder like a purse strap or a camera strap, either on one side or across your body, and transport the gun. This leaves your hands free to tote your phone, your flashlight, or in the case of a self-defense situation, your child, without dropping your gun.
Situations That Call For a Gun Sling
The obvious reason to get a gun sling is for transporting your rifle or shotgun from one place to another. Carrying a long gun takes both hands and you have to be mindful of where you are pointing the muzzle. You can't carry anything else while you have both hands on the gun.
On a hunting trip, you are likely to walk long distances in the dark going to and from your stand. You need to have a light and you need to be able to focus on where you are walking. A gun sling takes the burden of transporting the gun so you can carry the rest of your equipment.
In a self defense situation, you need a flashlight and your phone, and you might be managing the location of family members while you are scoping out a dangerous situation. You can have your rifle or shotgun ready to use without occupying your hands. If you need to switch from your long gun to the handgun on your belt, you can do so without dropping the long gun.
An assailant who wants to take your gun will have a very difficult time getting it away from you if it is attached to you by a sling.
At the range, you might want a gun sling to get your gun in and out of the shooting area along with your other guns and all your equipment.
In a shooting competition, the extra stability of a gun sling might save you time and put you ahead of the competition.
Check Your Gun for Attachment Points for a Gun Sling
The majority of rifles and shotguns can be fitted with a sling attachment. Manufacturers will set up the gun with a sling stud but you might have to add a swivel stud. Check the specs on the manufacturer's website before you buy to see what specific adapters your gun requires to add a sling.
The studs are likely to be at the front and back of the gun.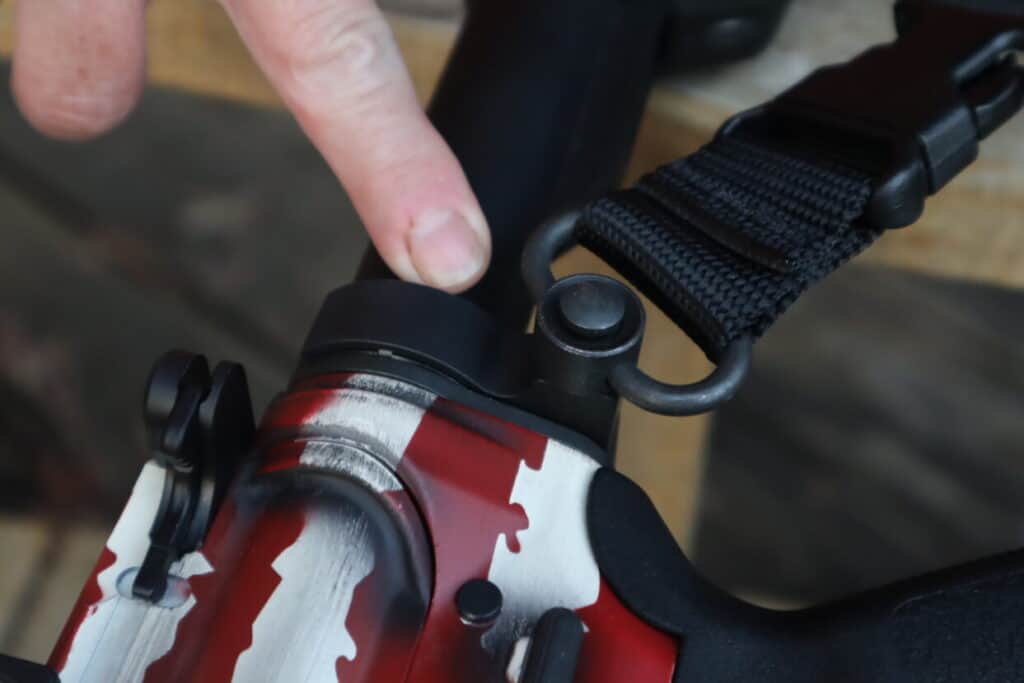 Why You Might Prefer a One-Point Sling
A one-point sling is the easiest to attach. You are hanging your gun off your body from one point, like a name tag on a lanyard. It is easier to maneuver the rifle around if you have it attached at only one point. The one point attachment sling is less likely to interfere with the operation of the charging handle or the ejection port.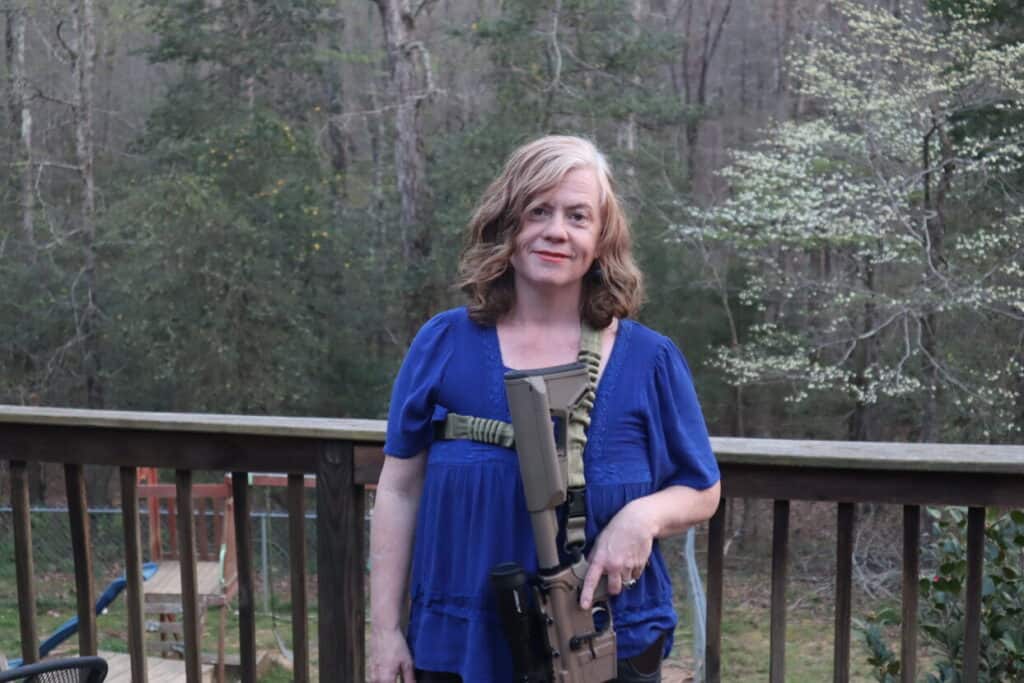 Why You Might Not Prefer a One-Point Sling
An entire long gun hanging from one point has a lot of movement when you walk. It is likely to slap you on the thighs and in other delicate areas. With a one-point sling, you still need one hand to stabilize the gun, leaving only one hand free for other things.
Why You Might Prefer a Two-Point Sling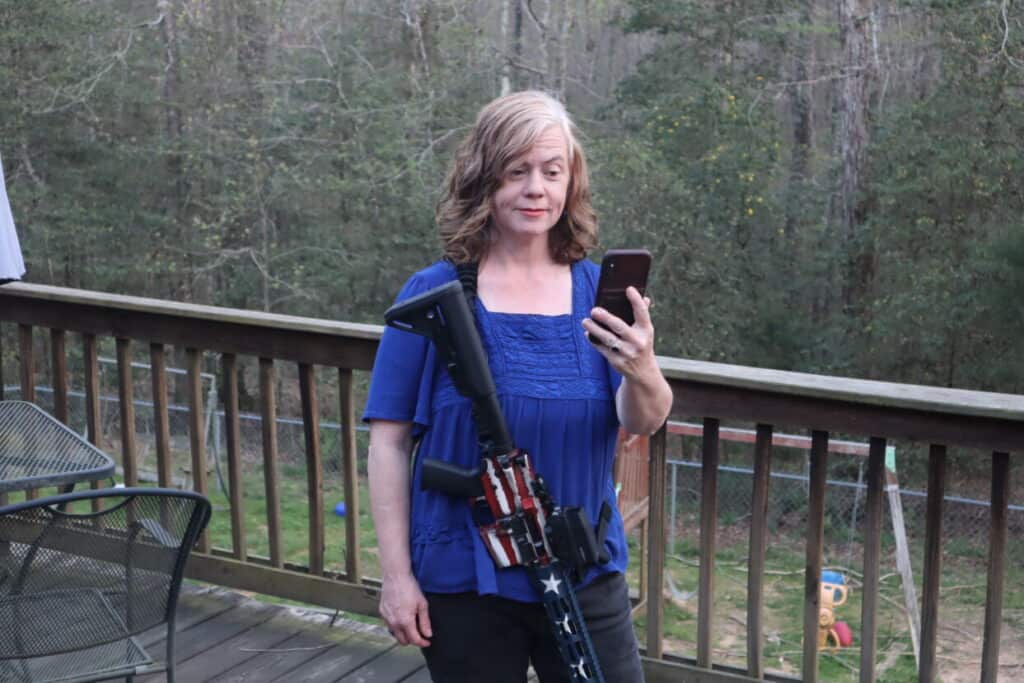 Attaching your gun at two points gives you better muzzle control when carrying your gun. It's more stable and doesn't slap you in the legs as you walk.
Why You Might Not Prefer a Two-Point Sling
Attaching your gun at two points restricts maneuverability while attempting to go around obstacles. Fitting the right length sling to your body is more critical with two points, so adjustability is a very important feature if you choose a two-point sling.
Why You Might Prefer a Three-Point Gun Sling
More points of attachments mean more stability.
Why You Might Not Prefer a Three-Point Gun Sling.
More points of attachment mean less maneuverability and more time getting in and out of the sling.
When You Might Not Want a Gun Sling
Some people just don't like having a band of fabric wrapped around their bodies. If you don't mind dedicating both hands to holding the gun, you can do without a sling.
There might be a physical reason why you don't want a gun sling. I broke my left collarbone and the repair left 3 screws right where the sling hits if I drape it over my left shoulder. Since I am left handed, this means I will not enjoy using a dominant side placement of the sling. An eight-pound gun is going to exert too much pressure on my screws unless I dress for the occasion in thick clothing.
A sling can get in the way when deploying the gun. In a non-emergent situation, you can get around this obstacle by removing the sling when you get to your destination.
Materials Commonly Used in a Gun Sling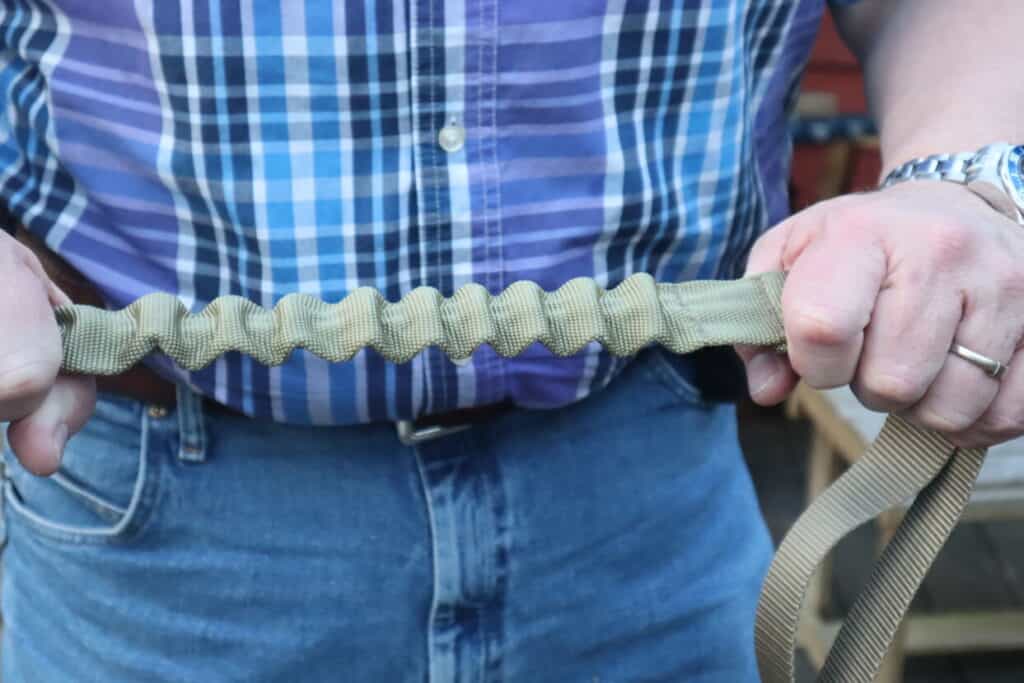 Gun slings are typically made of nylon webbing or leather. A sling with a stretchable portion will be elasticized for adjustability and support.
Attachments are made of metal or plastic. Adjustments can be made with buckles that lengthen or shorten the length of the strap.
Hunting slings may have built-in padding for ease of carrying the gun in and out of the hunting area. Tactical slings are likely to be bare bones because in that situation you want to avoid extra weight and restrictive configurations.
How Wide a Gun Sling Needs to Be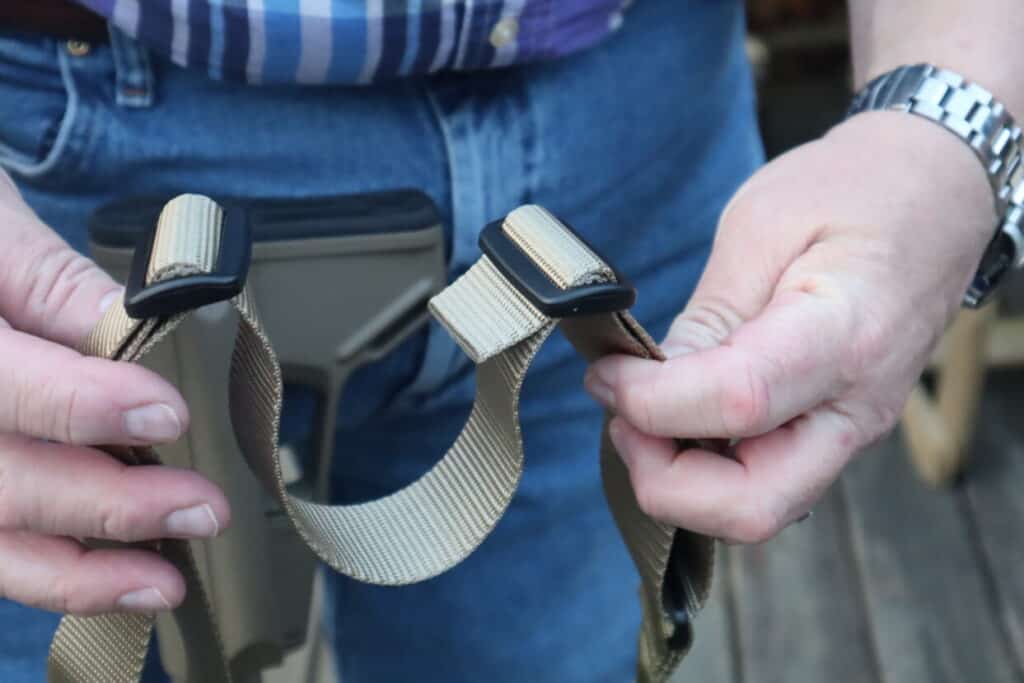 Gun slings are typically 1″ to 1.5″ in width. Leather slings will be thicker than nylon but the width will be similar. A wider sling distributes the weight of the gun more evenly over your shoulder for comfort.
Types of Attachments for Gun Slings
QD: Quick Detach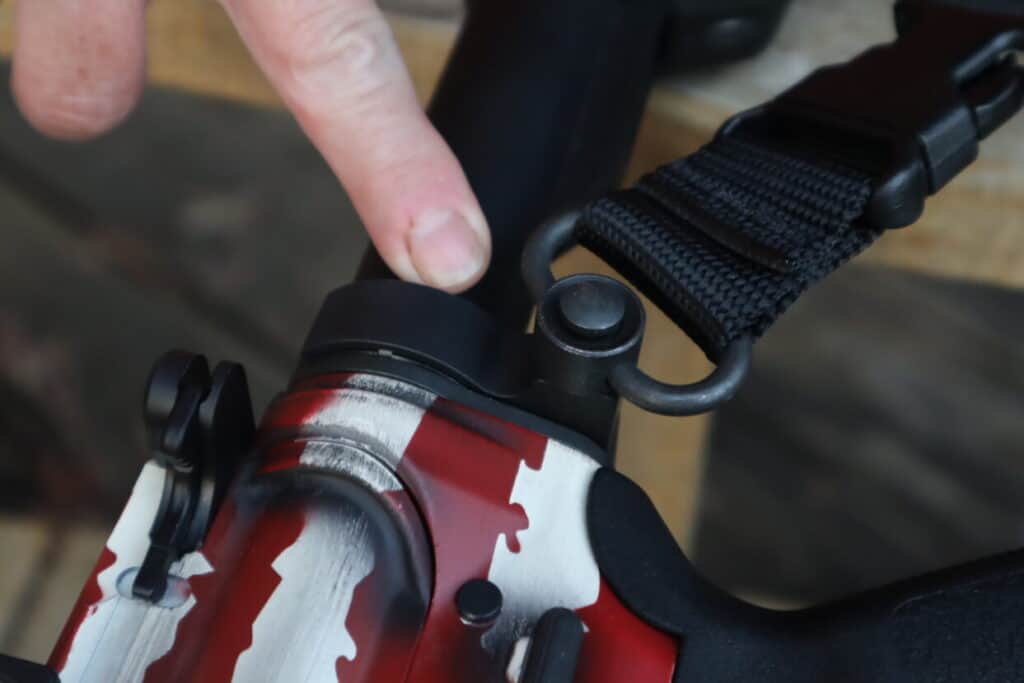 As the name suggests, the QD attachment requires a single thumb motion to attach and reattach. This simplifies the act of putting the strap on and removing it.
Clips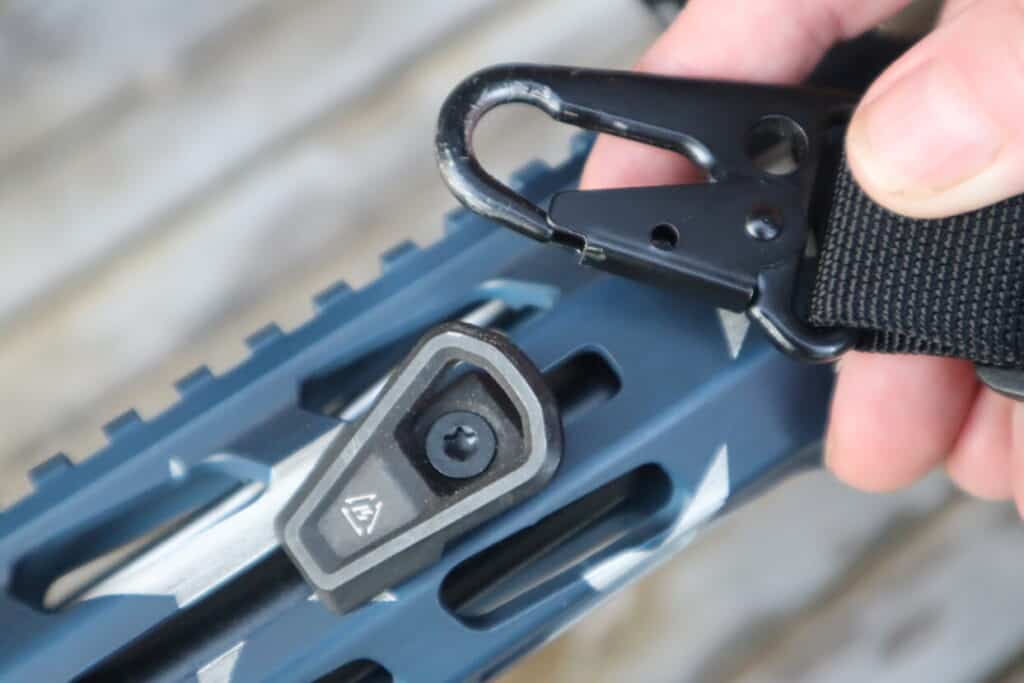 Rings
A rifle with a ring attachment needs a ring rather than a clip or a QD mount. Specter sells a connector specific to this kind of attachment.
Should You Use Your Sling on the Strong or Weak Side?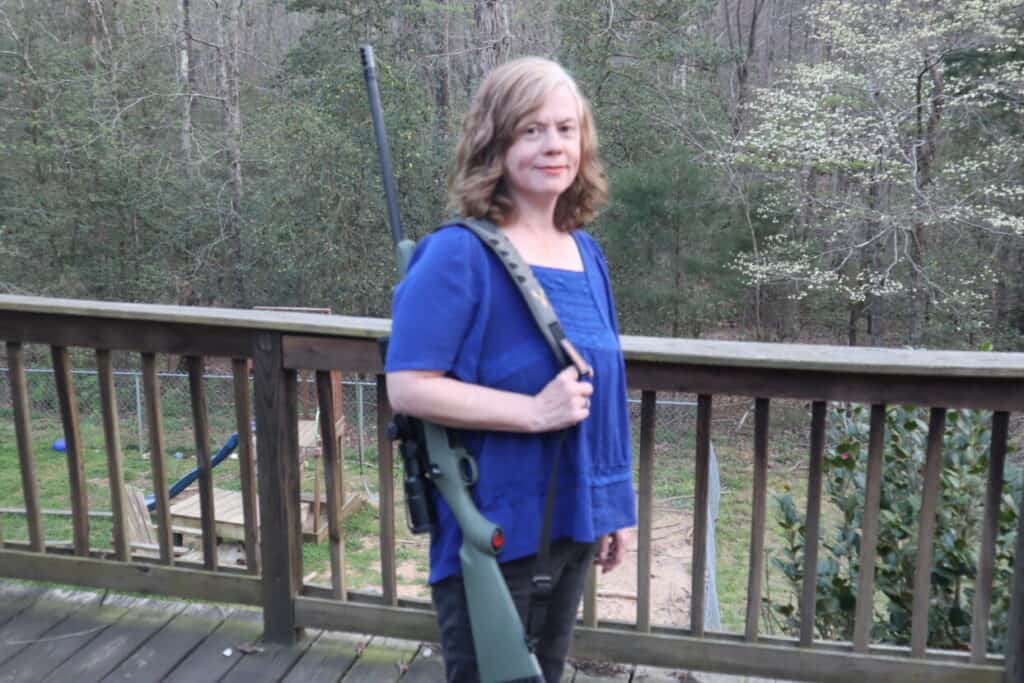 Anchor the strap on the shoulder of your shooting arm. With a one-point sling, the sling goes over your shooting shoulder and under your support armpit.
Considerations For Using a Gun Sling
Long guns are heavy and unwieldy because they are long and thin. Carrying a gun with your two hands is likely to lead to trouble if you trip and drop the gun. Adding a sling takes the burden off your hands and puts its on your shoulder. If you have no physical issues, this should be a comfortable and convenient solution to the problem of where to put the gun while you walk.
If you have shoulder, neck, or back problems, you may find the weight of the gun hanging from your body uncomfortable. In that case, a 2- or 3-point sling might better distribute the weight.
How Your Size Relates to the Size of Your Gun Sling
A person who is larger in circumference may need to make sure that the overall length of the sling is enough to accommodate the extra space requirement. A thinner person may find the sling too roomy. Adjustable straps can help make the sling small or large enough to fit your body. Elasticized slings can help you get into and out of a tight sling and bear some of the weight of the gun for you.
I am 5'2″ and the gun I wore with the one-point sling for this photo shoot hung down to my ankles. On my 6″ husband the same guns came down to mid knee with a one-point sling. I would do better with a 2-point sling to keep the gun from hitting low-lying obstacles when I walk through the forest.
How to Custom Fit Your Sling to Your Body
You can adjust the sling by sliding the buckles in and out to make it longer and shorter. This will be much easier if you have a friend to slide the buckles for you while you are wearing it, because the buckles will be at your back.
Your rifle or shotgun may come with attachments, or you may have to add adapters when you purchase your sling. My husband's guns are set up for right handed use. As a lefty, I would want the attachments on the opposite side.
Is a Gun Sling Good For A Woman?
If a woman is of sufficient height and width, she should be fine with any style of sling. A shorter woman may want to avoid a one-point sling unless the barrel of the gun is short enough to avoid riding too low when walking with the gun.
How to Shoot the Gun With a Sling Attached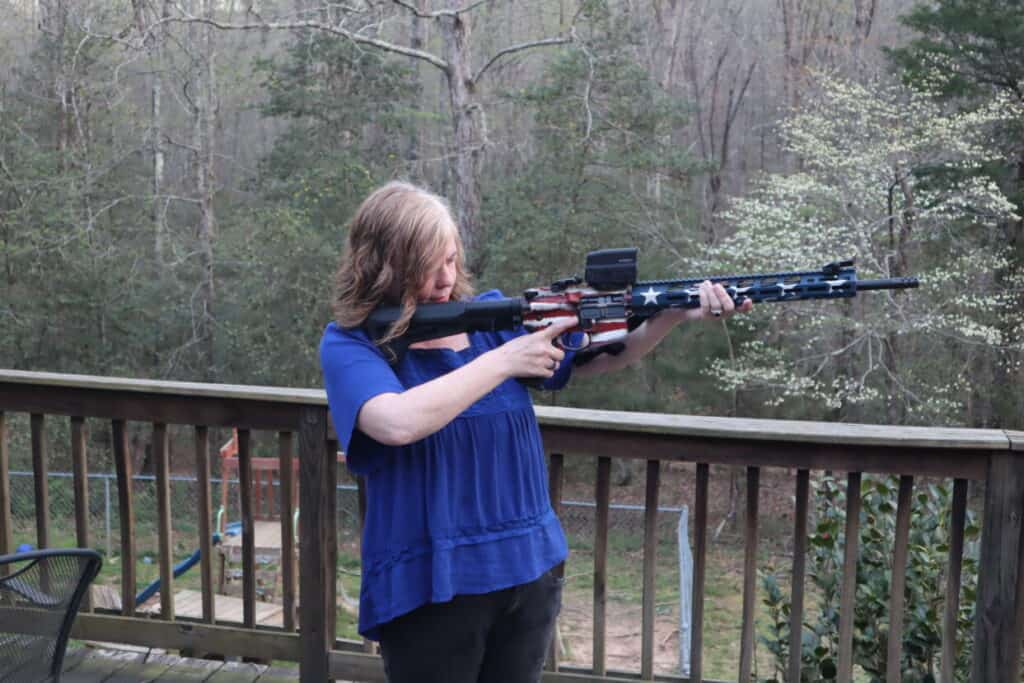 When you are ready to shoot, simply lift the gun or swing it into position and place it against your shoulder.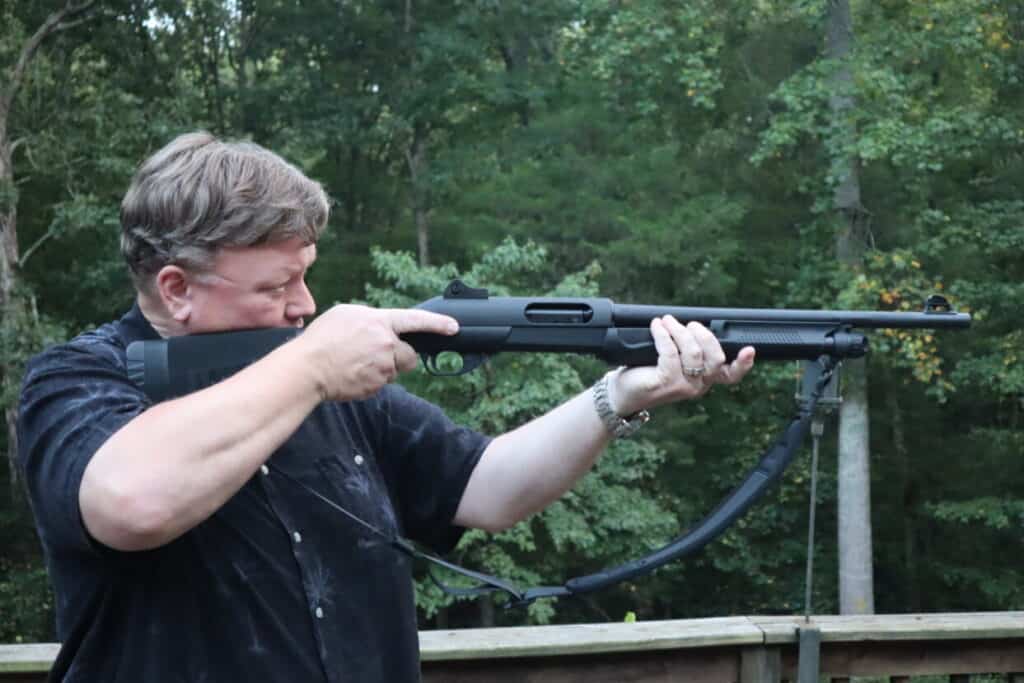 If you feel constrained by the encircling sling when you put the gun up to your shoulder, you have the option of letting the sling hang while you shoot.
Our Favorite Gun Slings
My husband owns a variety of slings. The slings featured in this article are as follows:
Viper 1 Point Tactical Sling #675 QD Attachment Version Coyote. (Optics Planet link. Modeled by me in the 1-point photo above with the tan custom built AR.
Magpul MS4 Dual QD GEN 2 Multi-Mission Sling. (Optics Planet link.) We have the one with the two QD points and is convertible between 1 and 2 points.
Specter TCS Convertible 1 or 2 Point Tactical Sling QD Swivel Attachment Version in Black. I model it above in the 2-point photo with the Star Spangled AR.
Butler Creek Easy Rider Sling. Link is to Cabela's. Chris models this sling with the Benelli Supernova shotgun above.
Allen Company Baktrak Aspen Rifle Sling 8357. Link is to Optics Planet. This is a newer version than the one we have. It has treads on the shoulder strap to keep it from sliding. I model it with the Ruger American Predator (the green gun) above.
There are infinite varieties of slings. Specter lists over 800 slings for sale in various attachment, colors, and sizes. Slings don't cost much, so get two or three that might work and use your favorite. Keep the rest until your needs change or rotate through your slings depending on the activity of the day.
We are busily gearing up our sales website, doubleeaglegunworks.org, to host Specter Gear and Legion Targets, with plans to expand to other products as we grow. Check us out occasionally to see what else we have added.
If you need more hands-on help choosing a sling, find a knowledgeable friends or have a lesson with a shooting instructor. If you are within driving distance of Upstate South Carolina you might want to contact us and arrange an hour or two with Chris. He can walk you through choosing a gun, buying accessories, and other topics that interest you.
Join our mailing list to see what's up with us lately. Watch our ever-growing collection of Double Eagle Gunworks YouTube videos. See our schedule for the next CWP class. And by all means keep reading our blog. Thanks!