Choosing a handgun involves multiple factors. You might find a gun that suits almost all your needs, but needs some personalization. Replacing the grips is an easy adaptation that doesn't have to cost a lot or require the services of a gunsmith.
Factors to consider when choosing your new handgun grips include
One piece encompassing the frame versus two pieces sandwiching the frame
The material used in the grips: rubber, polymer, wood, bone, pearl
Extra features such as texture enhancement, laser sights, or cosmetic enhancements
The shape of the grip and how it fits into your hand
Cost of the replacement grips
Ease of installment
Types of Handgun Grips
One Piece Grips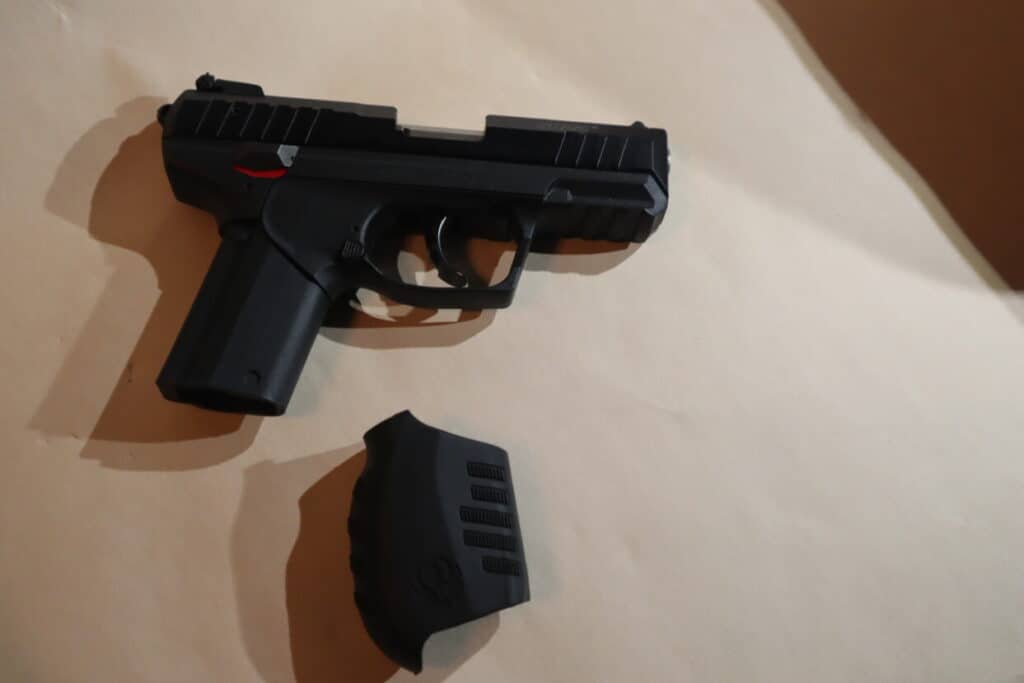 A one piece grip is called a monogrip. Examples include S&W 686 Plus and Ruger SR22. It wraps the whole grip so that none of the frame is exposed, giving you a seamless place to hold your gun. Replacing the grips on the SR22 is as simple as pulling off the monogrip and adding a new one.
Two Piece Grips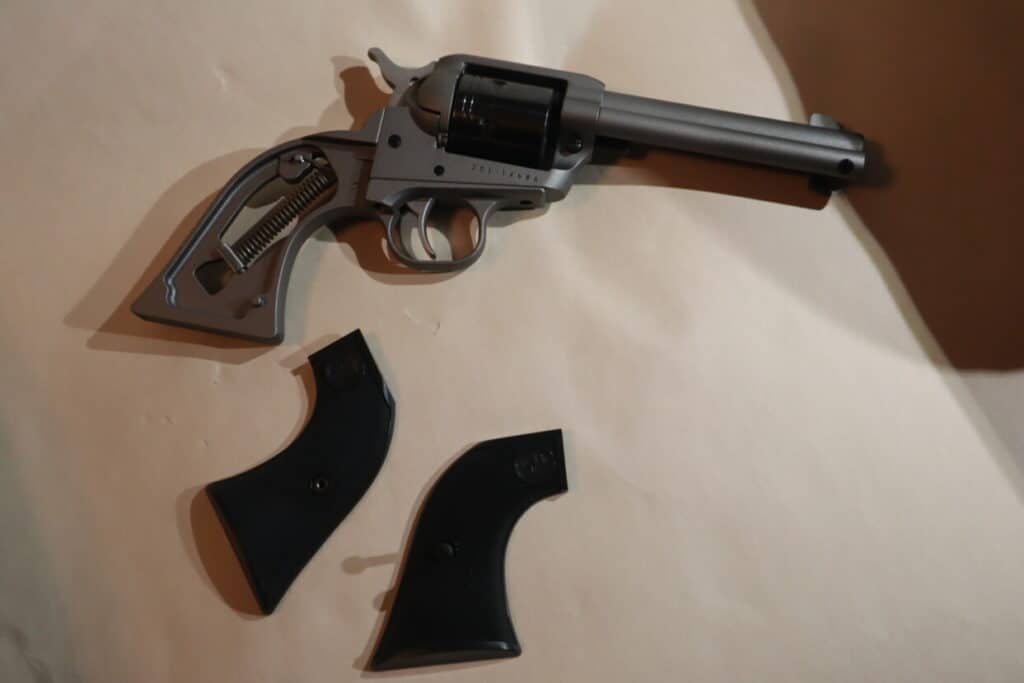 A two piece grip has scales, which are inserts on each side of the frame. These are nice because they are easily interchangeable and highly personalizable. You can choose the color, material, and thickness of the scales. A standard screwdriver is all you need to remove the scales.
What Materials Are Used to Make Handgun Grips
Rubber Grips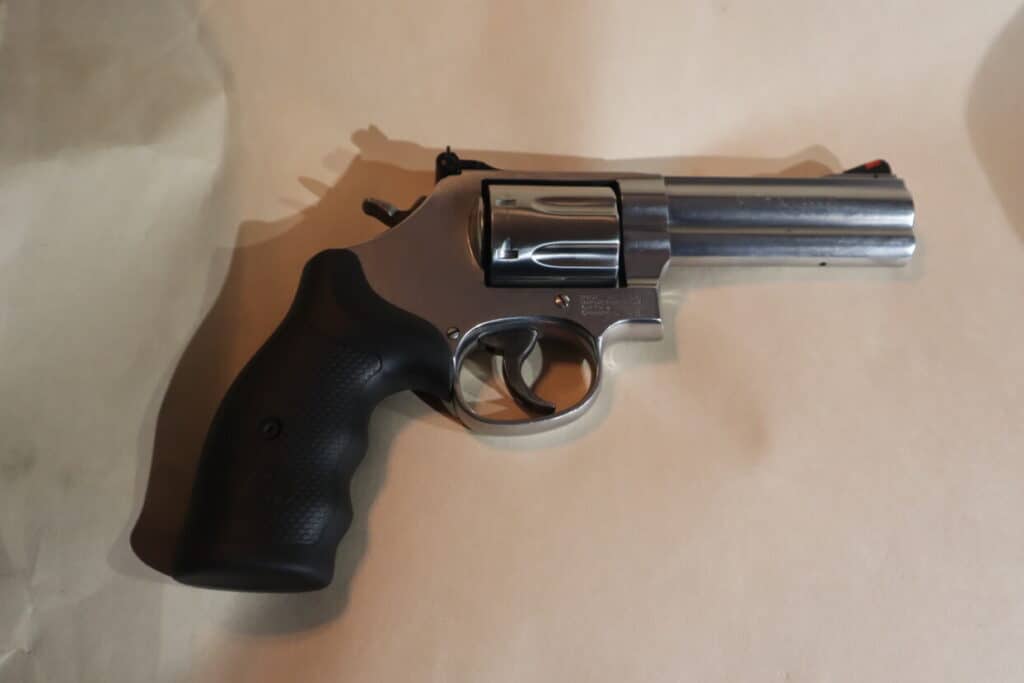 The S&W 686 Plus and SR22 have rubber grips. These are easy to hold and stay at an even temperature because rubber is not a good heat conductor. Rubber grips have a good tactile sensation and are comfortable because the rubber has some give to help absorb the recoil.
Polymer Grips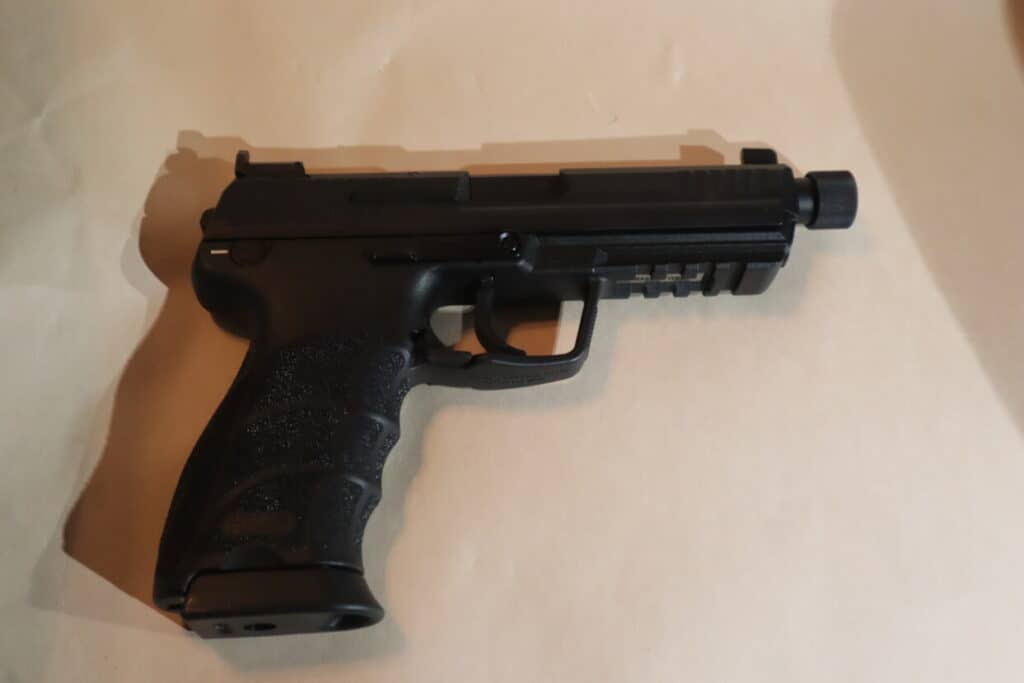 The HK45 has the grips molded into the polymer frame. Some polymer frames have interchangeable grips. The HK45 has an interchangeable backstrap, which is the part that fits directly against your palm at the back of the grip.
Click the photo to see an S&W M&P full sized large backstrap for .40 S&W and .45ACP at Amazon.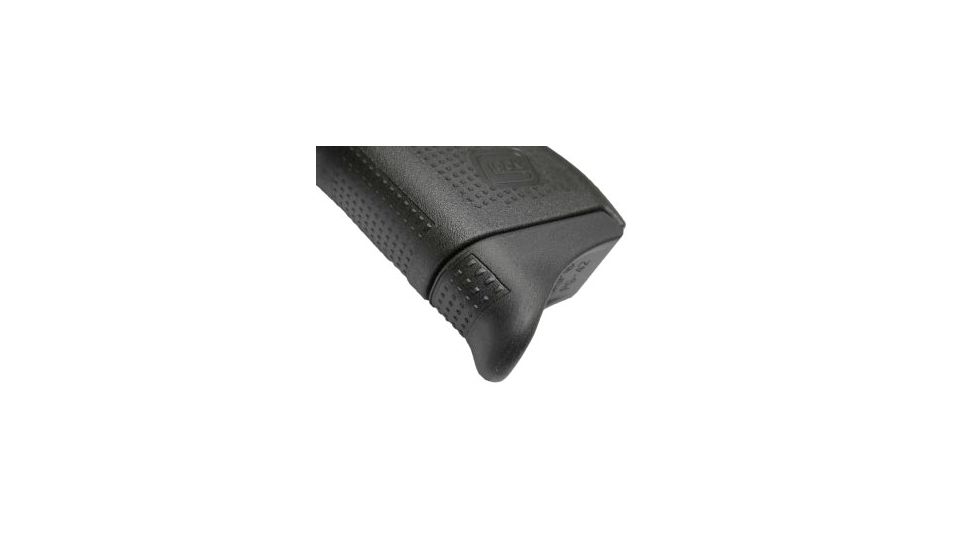 This allows you to customize the shape of the grip to make it flatter for small hands or more rounded for a roomier hand.
Wooden Grips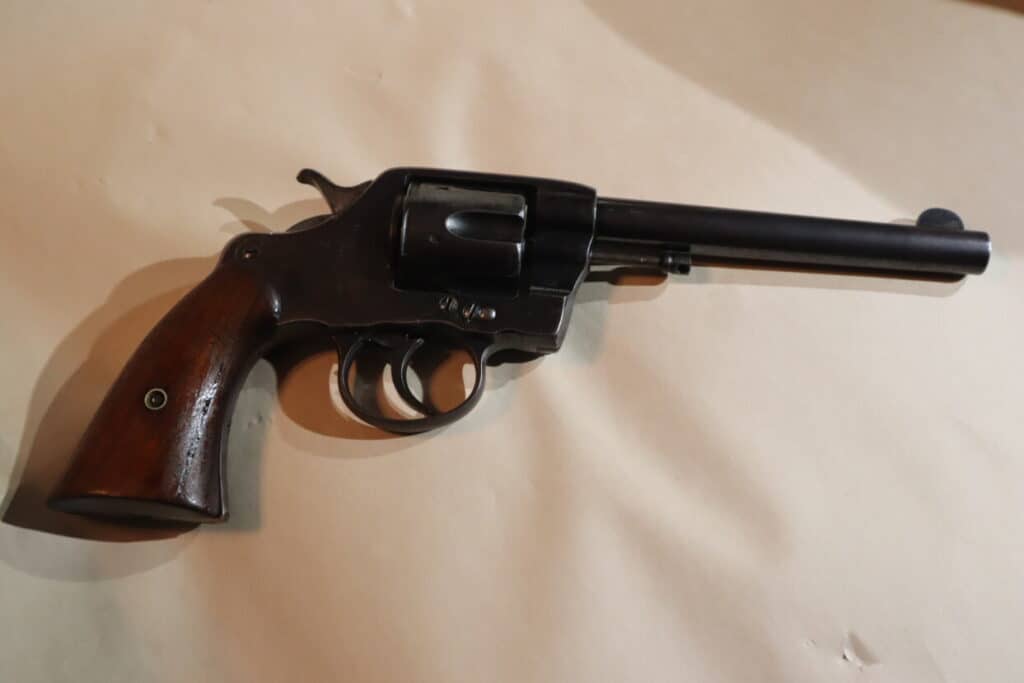 Older handguns are likely to have wooden grips. These can be especially beautiful when made by a master craftsman. Wooden grips will typically have a finish to help them resist the moisture of your hand, and linseed or tung oil will help maintain that finish.
Get this beautiful Hogue 81200 Goncalo Alves wooden grip for a Ruger SP101 at Amazon by clicking the photo.
Wooden grips are firmer than rubber grips, supplying less give, but some shooters like the firmer feel of wood. Wood can be modified with carvings to add beauty and personalization.
Bone Grips
Get these imitation mammoth ivory grips on Amazon.
Bone grips can be made of deer antlers. Ivory grips are now imitation only for legal reasons. Bone grips have a similar feel to wooden grips but add a little bling to your gun.
Pearl Grips
Click the photo to get mother-of- pearl grips available at Amazon.
Inlaid mother-of-pearl grips are downright flashy due to the natural iridescence of the material. They feel slick and their hardness is similar to wood or bone.
Pearl handled revolvers and pearl inlaid .45s are common in older Westerns because they add style to the character's look.
General George Patton carried a pearl handled .45 Long Colt 1873 Army revolver and a pearl handled S&W .357 Magnum.
Extra Features For Handgun Grips
Stippling
Laser Sights In the Grips
You can get replacement grips with laser sights embedded in the grips. This gives you a point of reference when you aim. See my article on laser sights.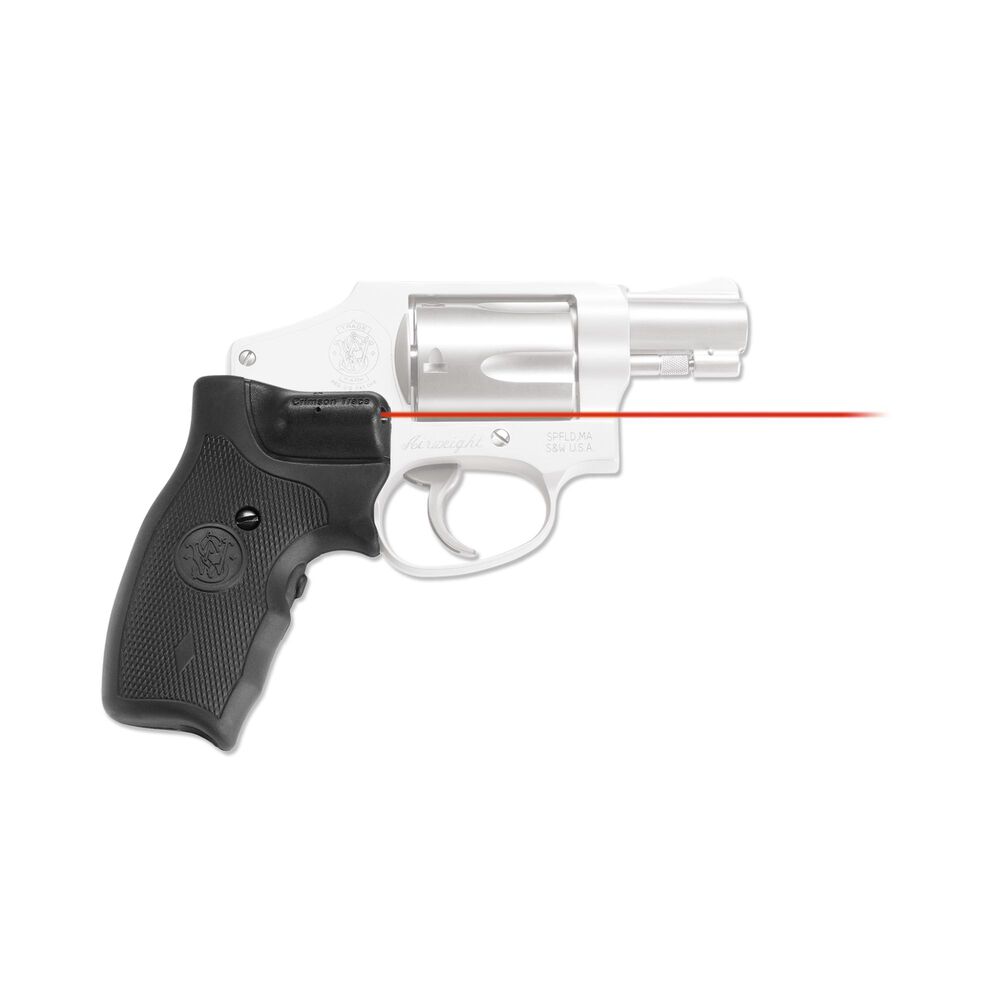 Embossed Words or Pictures
Click the photo to see these beautiful mother-of-pearl inlays available at Amazon.
Sleeves
Grip sleeves are an easy replacement. Just slip off the old sleeve and slip the new one into place.
Handgun Grip Extensions
If your hands are large, the grip of your gun may not accommodate all your fingers. Installing a grip extension will give you extra room.
Handgun Grip Tape
If you don't want to replace the grip, you can buy grip tape to add texture.
Shapes of Handgun Grips
Rounded Grips
Rounded grips have a pleasing look and take up more space in your palm. This is convenient for someone with bigger hands.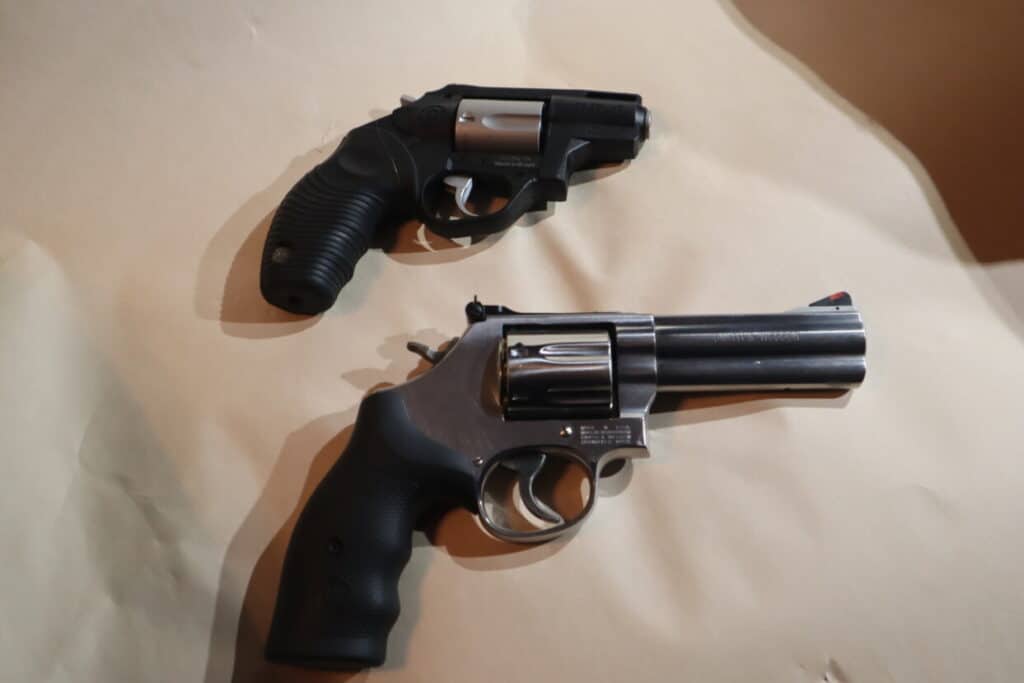 Flat Grips
A grip with a straighter vertical drop takes up less room in your hand, which gets you closer to the trigger. This is good for someone with small hands.
Grips With Finger Grooves
Finger grooves help anchor your fingers in the correct position. They can be subtle, as on the Taurus featured above, or pronounced.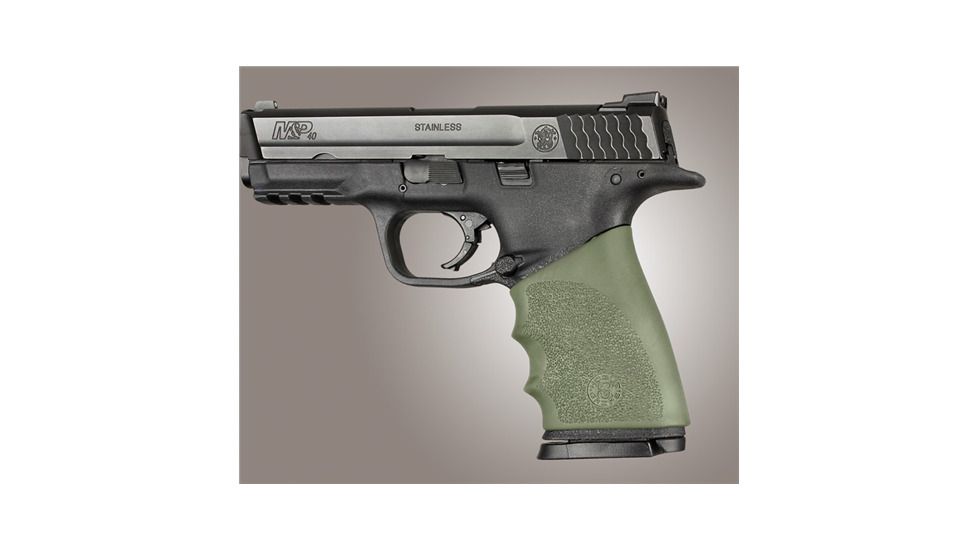 Should Handgun Grips Be Smooth or Rough?
The texture of the grip is a matter of personal taste. I like a smooth grip that does not irritate my skin. Textures can range from a small sandpaper grit to deep, sharp indentations.
Proponents of a rougher texture are looking for traction. A bone or pearl grip is likely to be slick. A heavily stippled grip will adhere to your hand better. If you want the texture but don't like how it feels in your hand, you can wear shooting gloves.
How Much to Spend on Replacement Grips
Grips can fit in the tiniest budget or you can spend extravagantly on them. Backstrap inserts were around $3 when I researched this article. Basic grips ranged from under $10 for the simplest to under $100 for the fancier ones. Going for a laser grip will set you back over $100.
How to Install Replacement Grips
Before you decide on a new grip, make sure it is compatible with your gun. Go to the manufacturer's website to see recommendations. If you buy your grips online, read the description to see whether it works with your model.
If you buy your grips at a store, the salesperson can tell you whether it will fit your gun. Some guns do not have replaceable grips because the whole frame is molded in one piece.
Remember the four rules of gun safety when installing grips:
Treat every gun as if it is loaded
Keep your finger off the trigger until you are ready to shoot
Know your target and what is beyond it
Never point a gun at something you are not willing to destroy
Unload your gun before doing any maintenance, including replacing the grips. Keep the barrel pointed away from you.
Grip sleeves are as simple as sliding off the old sleeve and sliding the new one into place. Scales can be removed and added with a screwdriver. The screws are sunk into the side of the grip.
Grip extensions replace the bottom plate of your magazine to give you extra room on the grip.
Laser grips operate on batteries. Install the batteries first. Remove the current grips with a screwdriver or hex key depending on the model of your gun. Snap on the new grip and reattach the screws.
Pointing the gun in a safe direction, grip the gun. If your laser grip is set to turn on when you grip the gun, it will turn on each time you pick up the gun. Some models have an option for turning the laser on and off manually. See your user's manual for more specific instructions.
How to Evaluate Whether the Handgun Grip Fits Your Hand
Hold the gun in your hand. Feel the weight of it. Does it feel balanced or is it front- or back-heavy?
After you check to see that it has no ammunition, point the gun in a safe direction and pull the trigger. How hard was it to pull the trigger all the way back? There should not be a significant effort to get to the trigger break.
Did the angle of your trigger finger change when you put it against the trigger guard? If your hand position is too high or low to have a straight line to the trigger, it may be the shape of the grip.
How much did you have to stretch your finger to reach the trigger? There may be too much length of pull, or you may not have enough room for longer fingers.
Read my article on gun fitting and watch the YouTube video we made to see my husband Chris fitting me for a gun.
Where to Get Replacement Grips
I have given you several links above to Palmetto State Armory, Amazon, and Crimson Trace. When I can't find it elsewhere, Optics Planet will have it at a great price. Here's a link to my search for "replacement grips." You can also visit shop.doubleeaglegunworks.org and buy your accessories directly from us.
Double Eagle Gunworks LLC is a federally licensed firearms dealer and provides onsite training. Contact us if you need to transfer a gun in South Carolina. Join our newsletter to keep up with us. Use our calendar to see our class schedule or call for an appointment.
Keep reading my blog and be sure to check our our Double Eagle Gunworks YouTube channel for more helpful information on all things gun related.